Rajasthan: Healthcare services crippled as doctors strike enters day 4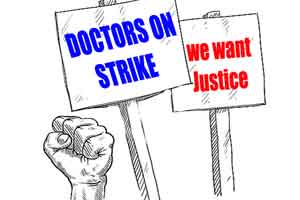 Jaipur: It's a sorry state of affairs in the state, after nearly 4,000 doctors working with the government medical colleges have been on a strike for the past four days . The strike comes in response to the recent decision of the government to send their answer scripts for evaluation to other states. The doctors/students highlighted this to be an abrupt decision with no prior intimation to the students about the move. The government has justified it on the grounds of MCI regulations.
Yet,the story doesn't stop there. Students have alleged that while the government has been imposing various conditions on them in the name of MCI norms, the state government itself is violating the so-called norms in place.
There are many MCI norms related to working hours, working conditions, faculty ratios, patient doctor ratios that the state government is allegedly ignoring.
" One of the MCI norms says students going through PG courses shall be given exposure to Basics of statistics, critical evaluation of research paper, exposure to human behavior studies. Such a thing has never existed in Rajasthan" pointed out Dr Kuldeep Punia, President Jaipur Association of resident doctors
" We have to appear for our exams in the month of June itself but due to the work pressure and high patient loads, we are not even getting enough sleep, let alone time to prepare for our exams," said Dr Mahender Singh,  RDA President Jhalawar Medical college.
According to many, the strike is not due to one reason, but culmination of the anger of overworked medical students in the state. Today was the fourth day of their strike.
The government, however, rather than listening to demands has been reported to resort to punitive action. On 1
st
of June, Health minister Rajendra Rathore announced suspension of 583 striking doctors along with their suspension from the PG program.
Read Also: 
Rajasthan: Resident doctors go on strike, Health minister threatens consequences
The punitive actions went a bit too far, when yesterday all striking DM/MCh/MD.MD/Diploma doctors were told to vacate their hostels including women medicos. At many places, utilities such as electricity and water connections have been removed to drive the resident doctors out, a doctor told Medical Dialogues team.
The minister has also been reported to be making alternate arrangements by employing more practitioners in the state
Devoid of their residence and being under the threat of termination, the resident doctors however are still not moving any ground. They continue to strike outside their hospitals.
Speaking to Medical Dialogues team, Puniya added ," This is not just a one off strike. We had given due notice of 7 days to the government, putting forward our demands. But even then the government did not listen. We are all fighting for better working/study conditions and not just one off issue. We will continue to strike till the government agrees to our demands. For the benefit of the patients ,we are running a parallel OPD in all hospitals."