Response time reduced by 33% after induction of bike ambulances in Shimla: Govt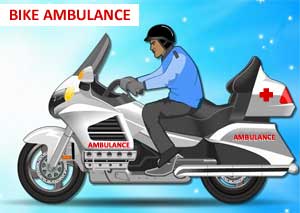 Shimla
: The 108 bike ambulance service has reduced the response time in emergency cases up to 33 percent in the Himachal Pradesh capital, an official spokesperson said today.
The service was introduced as First Responder Bikes (FRB) in Shimla on April 2 to attend to emergency cases being reported from here.
 FRBs in its initial 20 days, up to April 22, served 100 emergency cases in Shimla town, the Himachal Pradesh government spokesperson said, adding that on an average, five cases were attended to everyday here.
During this period, the highest number, 24 percent cases, were of acute abdomen pain, followed by, 14 percent, non-vehicular trauma and 9 percent cardiac-related cases, he said.
These bike ambulances are equipped with primary pre-hospital care facilities such as medicines, medical consumable and equipments along with oxygen required for stabilisation of patients.
The FRB staff provide first aid and initiate stabilisation of the patient. In 68 percent of cases, pre-hospital care was provided at the location and it was not necessary to take the patient to the hospital, the spokesperson said.
The bike ambulance service supplements 108 National Ambulance Service (NAS).
Himachal Health Minister Vipin Parmar informed that the 108 NAS has a big network of 198 ambulances in the state.