Rs 10 crore Defamation Case: Kolkata Neurosurgeon to move court after patient attendant refuses to apologise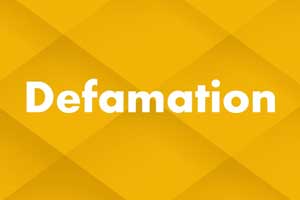 The response to the defamation notice further accused the neurosurgeon of making distorted statements in his legal notice with some oblique motive. 
Kolkata: Unhappy with the response that was given by a patient's attendant to the defamation notice sent by city neurosurgeon, the doctor Dr. Sujoy Sanyal  has decided to take a recourse to the court
Medical Dialogues team had earlier reported that retaliating against the alleged defamatory posts made against him on the social networking sites, a Kolkata neurosurgeon had sent a legal notice to the husband of a patient. The doctor in the notice clearly asked the attendant to either retract the post and issue of public apology or he will proceed with civil proceedings to claim damages to the tune of Rs 10 crore for the loss of goodwill and reputation due to such defamation.
The notice contained a detailed explanation from the doctor, whereby he replied pointedly to the allegations made by the patient's attendant blaming the doctor for the medical condition of his seriously ill wife. The defamation notice went on the add the credentials of the doctors including the fact that he secured his Mch from AIIMS and has been the recipient of numerous national and international accolades in the field of neurosurgery.
Read Also: Neurosurgeon Sends Rs 10 crore Defamation Notice to Patients attendant for Facebook Posts
The notice then called upon the attendant to withdraw the defamatory statements published by him on facebook and circulated on Whatsapp as well as to issue apology in a leading English and Bengali and Hindi newspaper to the doctor, within 7 days, failure of which would lead the doctor to resort to legal recourse.
TOI now reports that a response has been submitted by the patient's attendant, Nabendu Biswas, a lawyer by profession. The response states that some of Sanyal's statements are irrelevant, skillfully distorted and suppressed to cover up unfair trade practices. At the same time, the response states that Biswas was in a disturbed state of mind as Bhanumati was not showing any progress. The posts, according to him, were made to draw attention to his plight. Through such posts, Biswas also wanted to attract the attention of the state government, quotes TOI. The legal representative of the patient's attendant further accused accuse the doctor of making distorted statements in his legal notice with some oblique motive.
With no apology in response as demanded, the doctor has decided to approach the court.
"There is no truth in whatever Biswas has written. I had sought an apology. He has refused to apologise. Under the circumstances, we have no other option but to move court. I am proceeding as per the instructions of my lawyer," Dr Sanyal told
TOI