SC slams Central Govt, MCI; allows 4 debarred medical colleges to admit students this year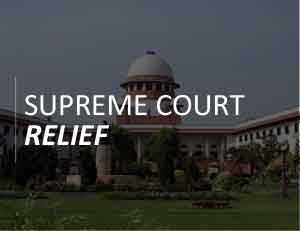 New Delhi The Centre's decision debarring many medical colleges from admitting students for two years was quashed by the Supreme Court which observed a "cryptic and mechanical order" was passed which cannot stand judicial
A bench headed by Chief Justice Dipak Misra directed the government and the Medical Council of India (MCI) to permit the petitioner colleges to admit students till September 5 for the 2017-18 academic session and allot seats in the MBBS course through central counselling as per merit.
The colleges that have been given relief include


 Sridev Suman Subharti Medical College, Dehradun- 150 seats


Apollo Institute of Medical Sciences & Research, Chittoor, Andhra Pradesh- 150 seats


Kanachur Institute of Medical Sciences, Deralakatte, Mangalore, Karnataka- 150 MBBS seats


Shri Shankaracharya Institute of Medical Sciences, Bhilai, Chhatisgarh -150 MBBS seats


In the case of Sridev Suman Subharti Medical College, Dehradun, the bench, also comprising Justices Amitava Roy and A M Khanwilkar, observed in its judgement that despite the apex court asking the competent authority to reconsider the matter, "it opted to pass a cryptic and mechanical order which suffers from the vice of non-application of mind, if not perverse". The said judgement, which had been pronounced on the 30th August, 2017, then became the basis of following judgements of other medical colleges, pronounced on 31St August.
The verdict came on the pleas filed by a medical college managements which had moved the court against various orders passed by the competent authority debarring its college from admitting students for two academic sessions, besides authorising MCI to encash bank guarantee of Rs two crore offered by the Institute.
"The impugned decision of the competent authority of the Central Government is quashed and set aside."
Further, the central government, as well as the MCI, have been directed to permit the college to admit the students until September 5 for the academic session 2017-18 and allot (seats to) students through central counselling in order of their merit for the academic session 2017-18 in the MBBS course
In the case of the Dehradun medical college, the apex court clearly noted that reconsideration of the matter by the Centre was a mere formality in this case and no sincere effort was made by the competent authority to analyse the materials placed on record by the college.
"This is nothing short of abdication of statutory duty.That cannot be countenanced especially when the matter was sent back to the competent authority by this court vide order dated August 1...," it said.
To Read their respective judgements, click on the following link