Set up designated swine flu wards: Centre to hospitals, Delhi govt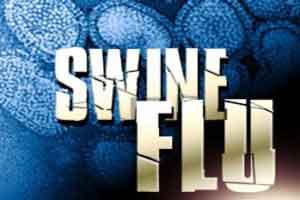 New Delhi: The Union health ministry asked Delhi Health Minister Satyendra Jain and all central government-run hospitals to set up designated swine flu wards and issue an advisory to chemists across the city to ensure adequate stock of drugs to treat vector-borne diseases.
Health Minister J P Nadda asked hospital authorities to ensure that an adequate number of isolation wards were available and protocols for ventilator management were followed.
"This time, swine flu cases are being reported. We have asked the Delhi health minister and all central government hospitals to ensure that there are designated swine flu wards.
"However there is no need to panic as all patients suffering from swine flu (H1N1) do not require hospitalisation," he said, after chairing a high-level meeting to review preparedness for prevention and control of vector-borne diseases such as dengue, malaria, chikungunya and swine flu in Delhi.
Delhi Health Minister Satyendra Jain, Mayors of three municipal corporations and medical superintendents of central government hospitals in Delhi, along with senior officials from the Union health ministry and the Delhi health department, participated in the meeting.
Nadda laid emphasis on the critical importance of prevention of vector-borne diseases and stated that all stakeholders including the government of Delhi, municipal corporations, resident welfare association, NGOs and the people had an important role to play in the prevention of breeding of the vectors that cause these diseases.
"A strong awareness campaign is very effective for educating people to keep their home and surrounding areas free of water clogging," Nadda said and urged Jain to launch a house-to-house information, education, and communication (IEC) campaign for creating widespread awareness.
"When people are equipped with proper information, they are capable of preventing such diseases and also seeking timely medical intervention," he said.
Nadda also suggested that the Delhi government organises a workshop for all agencies concerned and stakeholders to sensitise them on the protocols for prevention and management of vector-borne diseases that normally see a spike during the monsoon.
He assured support of the Union health ministry in all efforts of the state government to build their capacity. He added that master trainers that had received training last year and this year should be engaged to build the capacity of other health workers too, he stated.
Nadda highlighted the importance of maintaining the adequate quantity of testing kits, drugs among others at the government hospitals and chemists.
"The minister (Nadda) basically asked us (MCD) to focus on building greater awareness so that the threat of vector- borne diseases can be warded off by prevention. He also asked us to conduct a workshop for councillors and we have decided to hold the programme," North Delhi Mayor Preety Agarwal said.
The meeting, she said, lasted for about 30 minutes.
"The north corporation would hold the workshop on August 23. Experts from the Centre and other departments would be participating in it," she said, adding that councillors are the nearest local contact persons for people, and therefore "we decided to work on this suggestion".
She said, the other two corporations, SDMC and EDMC, also have decided to hold the workshop.
"During the meet, we also raised the issue of overlapping of jurisdiction, which sometimes hinders work. For instance, places where parks are under the MCD but roads surrounding it or drains nearby it, fall under the PWD jurisdiction.
"The Delhi health minister also said that prevention has to be the watchword. Dengue and chikungunya (aedes agypti) mosquitoes breed in clear water and, coolers and other spots in households are generally the places where the breeding is found so people must be made aware about prevention," she said.
Also, water tankers leave behind puddle which is potential ground for breeding, hence, if the piped water supply can be improved, another causing factor can be mitigated.
Over 130 fresh cases of dengue have been reported last week in Delhi, taking the total number of people affected by the vector-borne disease this season to nearly 500 until August 12, according to a municipal report released today.
The number of people affected by malaria this year till August 12, has climbed to 385, while the figure for chikungunya stands at 283.
The city reported 753 cases of swine flu till August 6, while another 175 cases in the national capital were traced to neighbouring states and four deaths due to this disease.