Shocking: Attendants kidnap doctor after death of a patient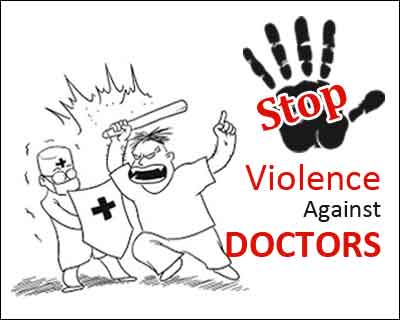 Odisha: In what can be called as an extreme reaction to an extreme circumstances, a doctor at Khurda district headquarters hospital was allegedly abducted by relatives of a 19-month-old boy who died after the health-care facility referred him to Sishu Bhavan in Cuttack. The doctor was later released by his abductors who dropped him off at the bypass road near Batamangala Temple.
OdishaTV reports that the doctors has been identified as Dr Pradeep Das, a pediatrician with the district hospital. The incident took place after an ill infant Goudaput village was brought to the hospital. The infant was given primary treatment by the doctor, who then referred the child to Shishu Bhawan in Cuttack. Unfortunately, the child passed away during the transit.
Angry over the incident, the relatives of the deceased, barged into the quarters of the doctor, dragging him to the door, before taking him away.
In his complaint, Dr Pradip Kumar Das said, "Two men barged into my house within the hospital campus around 1.30 pm, and forcefully took me away on a bike while ten men followed us. They then shoved me into a car and assaulted me saying that I was responsible for the child's death."
When the news reached the police department, it immediately began a search operation with a special team sealed off the exit points of the city. Meanwhile, the doctor, who is himself a cardiac patient was released by his abductors near the bypass road. Traumatised by the whole incident, he was later admitted to the same hospital.
The entire staff of the hospital, seems to have revolted in response to the incident, demanding the state government to take the issue of doctor's issue seriously.
"The Collector should come here and give us written assurance that the miscreants should be arrested within 24 hours. We also demand a police out-post on the hospital premises," Rakesh Khandayatray, one of the protesting medical employee told
Odisha TV
.