J P Nadda inaugurates 69th Foundation Day celebration of Vallabhbhai Patel Chest Institute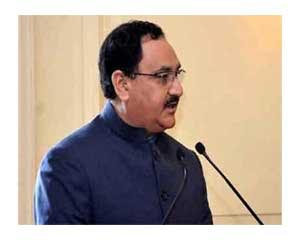 New Delhi: Shri J P Nadda, Union Minister of Health and Family Welfare inaugurated the 69th Foundation Day celebrations of the Vallabhbhai Patel Chest Institute (VPCI), here today. At the function, the Union Health Minister released a compendium on the list of Research Publications of VPCI from 1949-2017 and also unveiled the 'Daily Digital Pollen Count Information for Public'. Prof Randeep Guleria, Director AIIMS, New Delhi and Prof. Yogesh K Tyagi, Vice Chancellor, University of Delhi, were also present at the event.

At the function, Shri J P Nadda said that the Government has rolled out a new `National Strategic Plan (NSP)' to End TB by 2025 and VPCI and the Ministry should work together towards achieving this target. The target of eliminating TB by 2025 is quite ambitious. We are aiming to reach 3 million TB patients which means we would reach out to additional 1.1 million missing patients. I expect a major role to be played by the Institute in achieving success in this ambitious goal of Ending TB by 2025 as they have rich experience in the field of chest infections, he said.

Shri J P Nadda further said that the Government is transforming 1.5 lakh sub-centres into health and wellness centres to provide comprehensive primary health care as close to the community as possible, enable universal screening of five common non-communicable diseases to promote early detection, encourage lifestyle modifications, and ensure treatment and adherence to treatment. "VPCI can contribute by developing awareness programmes on chest infections that can be embedded in these health and wellness centres," the Union Health Minister elaborated.

Shri J P Nadda further stated that the Government has announced Ayushman Bharat- National Health Protection Mission (NHPM) that will cover over 10 crore poor and vulnerable families (approximately 50 crore beneficiaries) providing coverage upto 5 lakh rupees per family per year for secondary and tertiary care hospitalization. "More than 1300 packages are included in NHPM and VPCHI with their experience in chest infections can contribute in these packages, he said. Shri J P Nadda also assured all support to the Institute for exploring international collaborations with reputed institutions around the globe.

Also present at the function were Prof. Raj Kumar, Director, VPCI and Prof. Kavita Gulati, Faculty member of VPC, along with other senior officers and faculty of VPCI.