St Stephens Murder Case: Doctors take out candle march, police releases Sketch of accused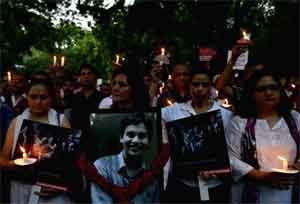 ALLAHABAD: Demanding Justice for late Dr Shashwat Pandey who was allegedly killed by his fellow colleague at St. Stephen Hospital in Delhi, the medical fraternity along with his parents and other local residents took out with a candle march carrying banners with slogans like "Justice for Shashwat" and "Serve justice - serve humanity, no more killing - no more blood".
The accused, identified as Dr Suyesh Gupta, went missing after allegedly killing his friend, deceased Dr Sashwat Pandey, 26, in the Radiology Department of the hospital.The police have now issued a sketch of accused, Dr Suyesh Gupta who reportedly changed his look to evade arrest. A reward of Rs 50,000 has also been declared on the accused
Medical Dialogues team had earlier reported that Dr Shashwant Pandey, a third-year postgraduate student with the radiology department of the hospital was found murdered in the hospital premises on the evening of 25 August 2017. The body of the deceased was recovered in the morning from the retiring room of the hospital, with his throat slit. He was found in a pool of blood by an attendant after which he made a PCR call at 9 in the morning, following which an FSL and Crime team on the spot.
Read also: Throat Slit, Radiologist murdered at St Stephens Hospital Delhi, Fellow Doctor Suspected
The family of Dr Shashwat Pandey aggrieved that after even one month of his death, the police is still clueless about the location of absconding accused.
"It's around one month now since the incident and the accused is still absconding. Delhi police have made repeated efforts including the announcement of a prize money, but so far this has not produced any substantial information about Dr Suyash's hideouts wanted in connection with the case."
"The family of Dr Shashwat is shattered and in deep shock. The death of a talented doctor Dr Shashwat is a loss to the entire society. The accused is still at large and is a threat to the society and it would only be in the best interest of everyone that the accused is arrested so that he could be tried and punished for his crime," a close friend of the family told TOI.
Jatin Narwhal, DCP (north), said police teams had last tracked Gupta to Anand Vihar ISBT from where he allegedly left the city. He had updated his Facebook status saying "It was a nice stay in India", which led police to suspect that he must have left the country. He had also withdrawn Rs 5 lakh before fleeing, reports TOI
Read also: St Stephens Doctor Murder: Police identify fellow resident doctor as killer, lodge a manhunt