Andhra Medical College Conferred with Administrative Excellence Award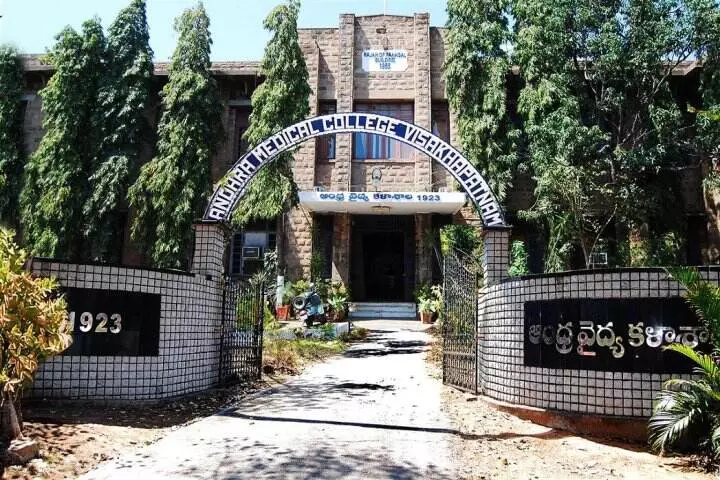 The Andhra Medical College recently received ISO certification for administrative excellence.
Vishakhapatnam: The Andhra Medical College, a government medical institution affiliated to the NTR University of Health Sciences, recently received the ISO 9001:2015 certification. It is the only government medical college in a Telugu speaking state, both Andhra Pradesh and Telangana, to have been bestowed with this acknowledgement.

The certificate was awarded by HYM International Certifications Private Ltd., on Thursday, 19th August 2021, in recognition of the administrative excellence and good practices adopted by the Andhra Medical College. It is the oldest medical college in Andhra Pradesh and the sixth oldest in India. It is recognized by the erstwhile Medical Council of India. Dr. P. Shyam Prasad is the present vice chancellor.
The organisation, represented by A. Sivayya, presented the certificate to Dr PV Sudhakar, the principal of Andhra Medical College. The district collector, Sri A. Mallikarjuna, was also present at the event. He gave a welcome address and congratulated the principal and faculty for achieving high standards.
According to media persons from The New Indian Express, Dr. Sudhakar has said that the certification was given based on administrative reforms and good practices in administration and initiatives in research activities taken up by the college. He also added that they applied for the certification three months ago and representatives of the organisation conducted a confidential survey and collected data and feedback of students and staff of the college with regard to functioning of the college administration.
The team recommended the ISO certification to AMC. He also mentioned that the government hospital for mental care was given the certification four months ago.
Dr. Sudhakar hopes that the ISO certification will help the institution secure NAAC accreditation.
NAAC Accreditation is mandatory for all higher educational institutes in the country, but many institutes, like AMC, are yet to get accredited. All higher educational institutes are required to get themselves accredited by NAAC by the year 2022.
Source : With inputs