Not paid since 106 days: Hindu Rao doctors to go on strike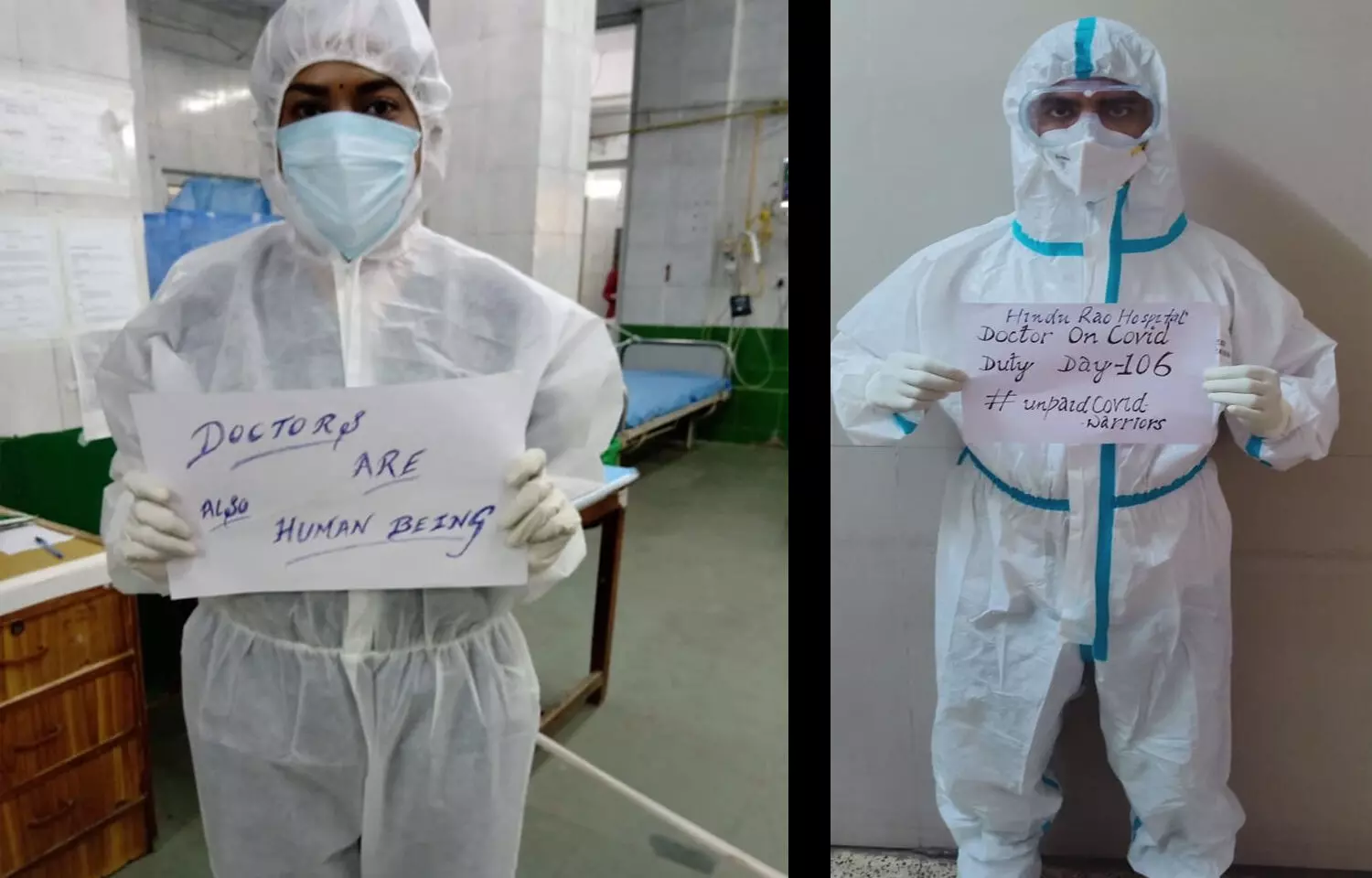 New Delhi - The Resident doctors at the civic body-run Hindu Rao Hospital have planned to go on a strike from next week over their salaries not being paid for three months. The doctors have already launched an online campaign demanding pending payments.

According to the hospital's Residents Doctors Association (RDA), they were last paid on June 15 after they moved court over delayed wages.
As they take protest online, will regularly post pictures with such texts 'Doctors on COVID duty, Unpaid Day 106, Hindu Rao Hospital Delhi': on their social media. The day will be updated daily. Today, it has been 106 days. They will also post pictures related to the problems they face due to the non-payment of their salaries. One doctor in full PPE kit, held out a poster that said "Doctors on COVID duty, unpaid days 106, Hindu Rao Hospital, Delhi" and was widely circulating on social media.
Earlier, on September 23, the Resident Doctor's Association had issued a statement and threatened to go on an "indefinite protest" till their demands were unmet.
Resident doctors on Monday had continued their protest over the issue, and some even held out posters bearing messages to highlight their situation.
Speaking on the strike, Dr Abhimanyu Sardana, the president of the Resident Doctors Association of the facility, told PTI "We have been doing the symbolic pen down from 9 AM to 12 noon for the last several days but no one is listening to us. Now, the plan is to go on strike from coming Monday, meaning only emergency services will be available" It is only a tentative decision and hopefully, authorities will listen to the genuine demands of the doctors, he said.
Dr Abhimanyu Sardana, president of the Resident Doctors' Association in the hospital, said they are forced to protest due to the non-payment of salaries. "It's been 106 days that we have not got salaries. We are under pen-down strike from 9 am to 12 every day since last week." He added that it has become a norm that they are not given salaries on time. "Many employees have come from other parts of the country. They too have to pay their rents. If after working for 12 hours, I return home and find that there is no money left in my account, how will I survive? Many among us are also on COVID-19 duty, risking their lives," Dr Sardana said.
"We are humans too and have a family to run. We are risking our lives for humanity during this pandemic. Is it too much to ask for our due salaries," Dr Sardana stressed.
Also Read:Maharastra: IMA protests over unilateral price cap for COVID treatment at private hospitals, violence against doctors

Meanwhile, Dr Sagar Deep, general secretary of the hospital's Resident Doctors' Association (RDA), informed The Indian Express that doctors will keep posting such photos every day since "those risking their lives are not being paid despite regular protests". "Salary has been delayed for three months. We were last paid in June. Earlier too, there has been a two-three month delay. Doctors are fed up with this," he said, adding that nobody, including around 50 doctors on Covid duty, has been paid.

Doctors on COVID duty at Delhi's Hindu Rao hospital, not paid salary for 3 months, protest against North MCD administration. As they take protest online, will regularly post pictures with such texts— 'Doctors on Covid duty, Unpaid Day... day will be updated. @IndianExpress pic.twitter.com/UsSyMQZy2s

— Abhinav Rajput (@Abhinavrt) September 29, 2020
It's been a week and there is no response. It's too agonising and seems like a harassment. The doctors are indeed suffering. Urgent intervention required. #PayTheDoctors #CovidWarriors #DoctorsDemandRights https://t.co/J3pBmHY58o

— Abhimanyu Sardana (@Sardana29) July 21, 2020
Also Read:Justice Served: Govt Doctor Forced To Run Autorickshaw to meet ends reinstated after media cry

North Delhi Mayor Jai Prakash said, "We are doing everything possible to resolve the issue". "Since it''s a COVID-19 facility, only about 50 patients at maximum are there per day in the 900-bed hospital. So, not all doctors are on duty. But yes doctors are on duty on a rotation basis," he said. Sources told PTI the doctors have not received salaries since July.
Also Read:No Salary, Only Harassment: Govt Doctor forced to run autorickshaw to make ends meet
Hindu Rao Hospital is the largest municipal hospital in Delhi and has been declared as a dedicated COVID-19 facility. Many of its healthcare workers had contracted the infection earlier.
Source : with inputs