Gujarat: Doctor assaulted by patient's kin over alleged weight loss therapy failure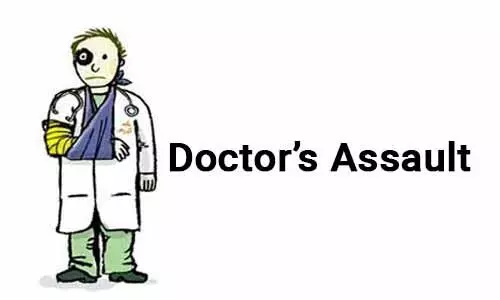 Surat: In a shocking incident, a Surat-based doctor sustained serious injuries after the kin of a patient allegedly attacked him with a sharp iron blade demanding a refund over the alleged failure of weight loss therapy. The accused had visited the doctor to get the refund alleging that even after paying for weight reduction therapy, his wife failed to reduce weight as per his expectation.
Following the issue of refund, a spat between the doctor and the patient's husband escalated and he ended up injuring the doctor further fleeing with money.

The doctor has been identified as a 32-year-old MBBS doctor who had a clinic near Shreeji society.
Times of India
reports that according to Katagram police, the accused approached the doctor to seek consultation for reducing the weight of his wife. But after undergoing the weight reduction therapy for a few months, his wife failed to show the result as expected by him. After this, the angry husband of the patient approached the doctor in his clinic and demanded a refund of the paid amount.
As per the daily, when the doctor refused to return the fee a verbal quarrel erupted between the two, and before the doctors could apprehend anything, the accused suddenly attacked him with the sharp iron blade. The accused allegedly looted Rs 1500 cash from the wallet of the doctor and fled the scene after injuring the doctor. The doctor received severe injuries on his throat after which he was rushed to a nearby hospital in an ambulance.
The accused has been booked for attacking the doctor under the relevant sections of the Indian Penal Code. Police have already started an investigation to nab the accused who is currently absconding. An initial investigation revealed that the doctor also dealt with herbal products along with practicing as an MBBS doctor. The accused used to visit the doctor regularly for weight loss treatment of his wife; however, when his wife failed to reduce the weight as per the expectation of the husband, he got angry and upset and assaulted the doctor to get a refund, reports the daily.
Source : with inputs