Gujarat: Medical Teachers on COVID duties threaten strike over salary revision, pending demands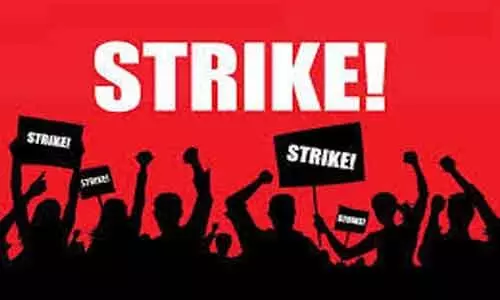 Vadodara: Medical teachers involved in Covid-19 duties across Gujarat have threatened to go on a strike from Monday over long-pending demands including salary revision, promotion, among others.
Almost 1700 tutors, assistant professors, associate professors, and professors of six medical colleges have come under the banner of the Gujarat Medical Teachers Association (GMTA).

Among this, 300 teachers are from Vadodara who have planned to start their agitation from March 10th if their demands are not considered by the authorities by then. Meanwhile, the contractually appointed medical teachers have also submitted their charter of demands claiming 40% raise in their current salary.

As per a media report by the
Times of India
, considering some cases where the senior resident doctors are being paid more than the assistant professors, the association demanded immediate action to resolve emolument issues to ensure a rise in non-practising allowance in line with the 7th pay commission.
GMTA also demanded the implementation of a career advancement scheme and time-bound promotion for the medical teachers. The medical teachers are especially irked by the fact that the government has decided to increase emoluments of interns and resident doctors but the authorities have systematically ignored GMTA's other pending demands.

The Association has recently submitted a representation for Gujarat chief minister Vijay Rupani and demanded that the salaries for Ad hoc teachers should be regularised. As far as regular faculty members are concerned, the association demanded that their salaries should also be regularized for the remainder of their service period. This should be done in a single order, reports
TOI
.
Meanwhile, the medical teachers who are currently serving on a contractual basis have also demanded a 40% rise in their current salary after observing that some of them receive less than the resident doctors and after-tax deduction they receive even less than first-year residents which is unacceptable. According to the daily, their other demands included approval for appropriate sick leaves, earned leaves, maternity, paternity, academic leaves, and regular conduction of Gujarat Public Service Commission (GPSC) so that they can get the chance to be included in the GPSC pool.

GMTA had earlier decided to start the agitation in March but it was deferred due to the sudden rise in the number of COVID victims after the emergence of the second wave of COVID; however, with authorities taking steps to fulfil the demands of residents and interns, the medical teachers have also started to go on agitation in order to air their grievances more earnestly.
GMTA Vadodara's secretary Dr Beejaysinh Rathod told Times on India, "The medical faculty trusted the government and hence did not take an aggressive stand. But the government has failed to look into our demands and hence it is now forced to give an ultimatum."
Source : with inputs