HC Takes Suo Motu Cognizance of worsening Covid-19 situation in Gujarat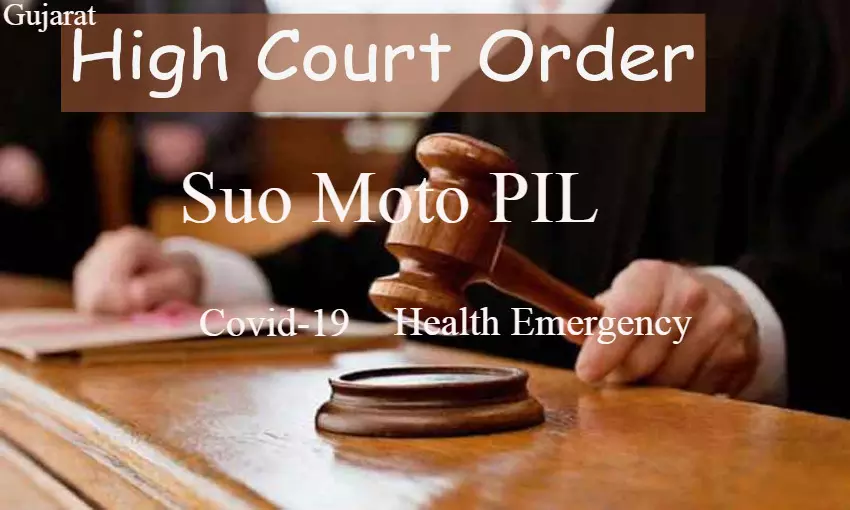 Ahmedabad: Addressing the various newspaper tales and reports describing the poor condition of the State's infrastructure to deal with the Pandemic, the Gujarat High Court on Sunday took a Suo Moto cognizance of the spike in COVID-19 cases in the State along with the shortage in testing facilities, beds and medical infrastructure to deal with the same.

PTI adds that this is the second such PIL registered by the state high court on coronavirus situation. The first PIL was registered last year and it is still being heard at regular intervals.

In the order on Sunday, the Chief Justice mentioned, "The newspapers, news channels are flooded with the harrowing tales, unfortunate and unimaginable difficulties, unmanageable conditions of the infrastructure, the shortfall and the deficit of not only testing, availability of beds, ICU, but also supply of Oxygen and the basic medicines like Ramdesivir, etc."
"Had it been stray news here and there, I could have ignored it but the volume of report in the leading newspapers having nation-wide circulation cannot be ignored. It is the time that the Court must intervene," clarified the Chief Justice.
Mentioning that the aforesaid articles were just a few depicting the picture, the Chief Justice further mentioned in the order that "a bare perusal of the same would indicate that the State is heading towards a health emergency of sorts."
Subsequently, the Chief Justice scheduled the PIL to be heard on Monday by the division bench comprising Chief Justice Vikram Nath and Justice Bhargav D Karia at Nath's official residence through online mode.
However, during the case hearing on Monday, Kamal Trivedi, the Advocate General tried to justify the stand of the State and mentioned that the newspaper reports were not accurate in reporting except for a couple of incidents where he admitted that the State or its agencies were at fault.
The HC bench thus, via order dated 12.04.2021 directed the State to file an appropriate affidavit duly sworn by an officer of the rank of Principal Secretary and place the submissions before the court through the learned Advocate General. The HC bench further asked the Advocate General to make a submission regarding the steps which the Government may take in the meantime. The Court has set a deadline till the evening of 14.04.2021, for submitting such an affidavit.
To view the high court orders, click on the link below.
https://medicaldialogues.in/pdf_upload/gujarat-hc-1-151204.pdf
https://medicaldialogues.in/pdf_upload/gujarat-hc-2-151205.pdf
Source : with agency inputs