Dance video of Bengaluru doctor with patient who recovered from COVID goes viral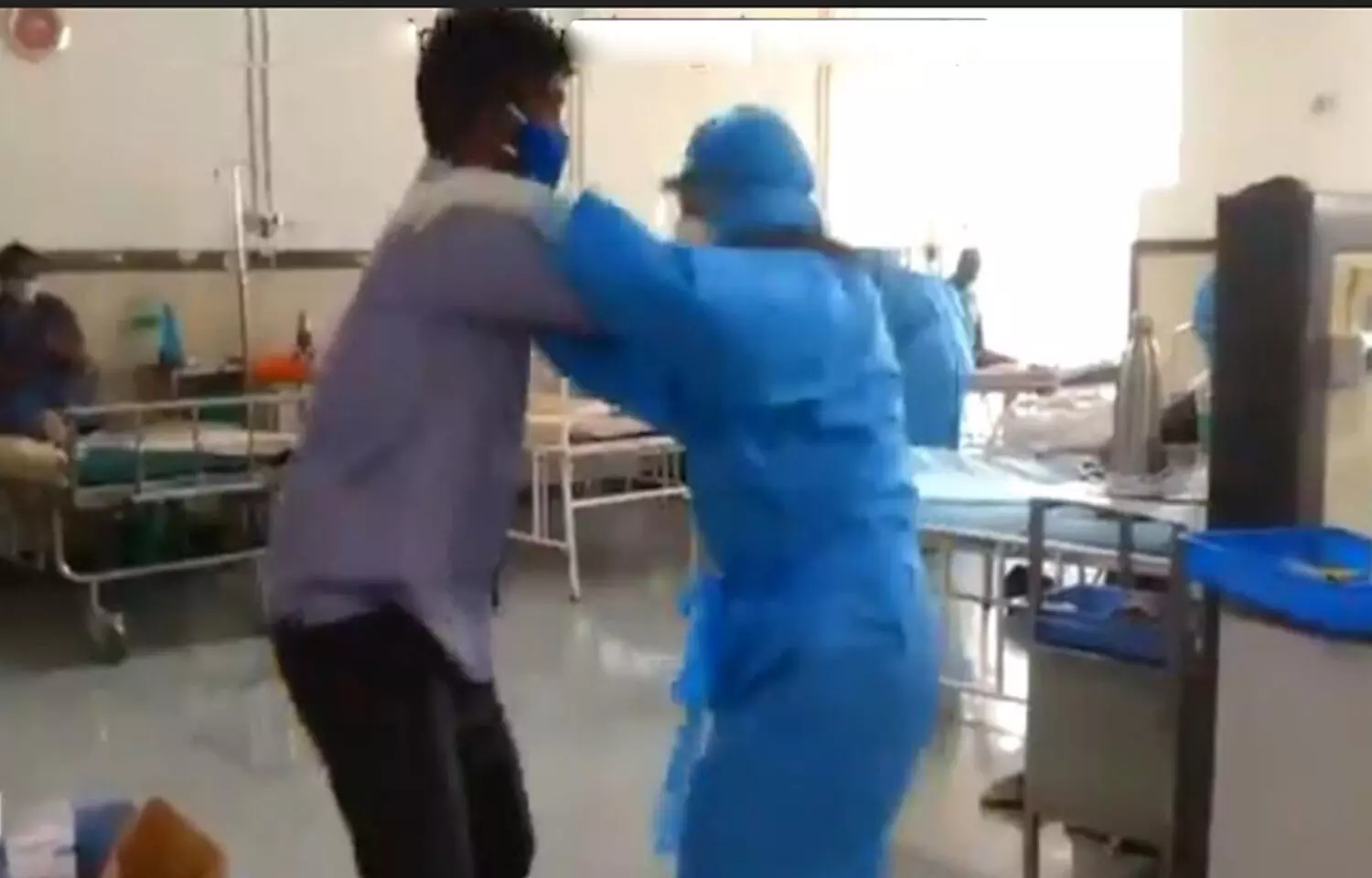 Bengaluru: A dance video of a doctor and an ambulance driver who after undergoing treatment for almost one week at a Bengaluru based hospital recovered from COVID and grooved with his doctor to express his joy has gone viral on social media platforms.

The video showing the 28 years are old patient dancing with his PPE-clad doctor has dispersed a ray of happiness in these gloomy times of pandemic. The driver was helped by ERT Bangalore to get the necessary treatment.

ERT Bangalore has posted the video on tweeter and stated, " Kumar was critical when we received a request to help him find a bed. 7 days later he sent us his victory dance against Covid just before getting discharged from the hospital."

As per a Twitter post of ERT Bangalore, the ambulance driver was tested positive for COVID and was facing breathing difficulties to a great extent as his oxygen saturation was rapidly dropping. In order to search for a bed, he went to Mysore but to his great disappointment, there was no bed left so he returned to Bangalore. Under such circumstances, on May 18th he approached ERT Bangalore and sought their help. ERT informed that when the ambulance driver approached them his oxygen saturation was around 75 and the CT scan showed his score to be 18/25.
He was in the emergency ward of a private hospital in Electronics City, and the organization immediately came to his aid and arranged a bed for him at St John's Medical College and Hospital. He had to travel 300 kilometres in a critical condition before he could finally secure a bed. Lauding the spirited personality of the ambulance driver, Farah Zaiba of ERT told
Times of India
, "The patient is an orphan and had three friends with him. When I got his case, of an ambulance driver who has been saving other people's lives, I had to step up."
She informed that as the patient could not afford the charge of an emergency ward which can amount to Rs 30,000 per day, he requested ERT to arrange a bed through BBMP (Bruhat Bengaluru Mahanagara Palike). The organization, on May 19th, managed to secure a bed and also explained the serious condition of the patient to his friends and family. Finally, at 3 a.m he was rushed to the hospital. The ERT volunteers coordinated with Arogya Mitra to complete the admission formalities, reports TOI.
On contacting the patient to check on his health condition, he expressed his gratitude towards ERT volunteer and also shared his dancing video where he matched steps with his doctor before his discharge and the duo could be seen grooving on a Bollywood song.
" I was relieved the day his treatment began and called him on Tuesday morning to check on him. To my pleasant surprise, Kumara sent this video, thanking me and saying he wanted to surprise me. He values life like no one else", added Farah.
Source : with inputs