Karnataka Private Medical college medicos stage protest against sudden joining order for COVID duty, non-payment of stipend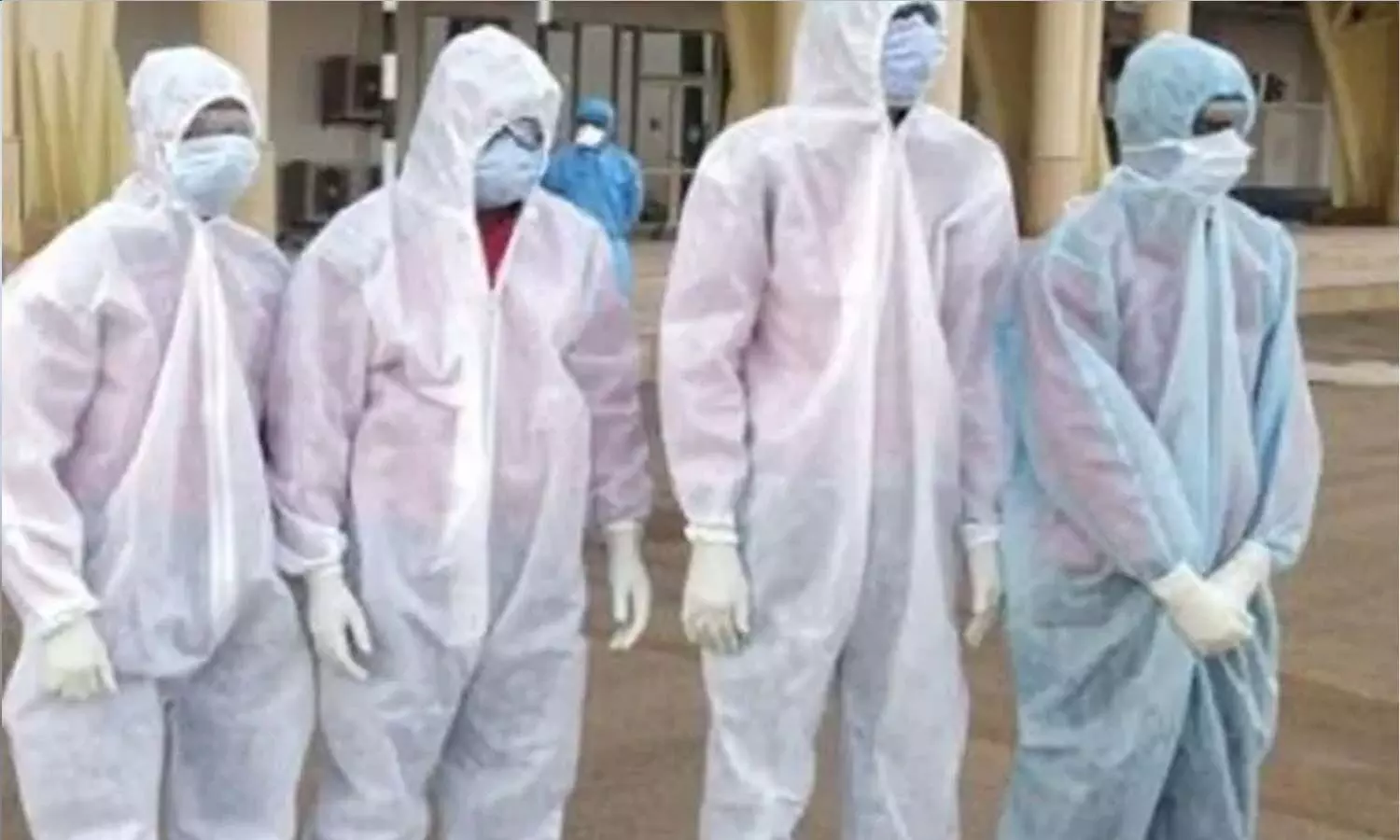 Karnataka: Enraged over the order compelling them to act on the beck and call of the authorities while they have not received any stipend for the last two months in spite of working on COVID duty nonstop, the final year Medicos of Bengaluru private colleges and the MBBS students who are pursuing internships recently staged a protest.
The agitated medicos have alleged that they have been compelled to report to COVID facilities, fever clinics, and different Healthcare facilities on very short notice.
Many of the students stated that while they received orders to serve duty in several health facilities, they are not given any proper accommodation for their services. Some of them have been informed by the authorities that they have to do their own arrangements of food and lodging. Many of them are also alleging that they have been instructed to pay their own charges if they are tested positive or if they consult any private laboratory. Hence, the medicos finally took the decision of staging a protest to air their grievances.
ALSO READ: Doctor Crisis: Karnataka medical council appeals to its registered doctors to volunteer services at hospitals
The Medicos are greatly annoyed over the discrepancy of stipend. Many of the private MBBS students alleged that while serving the year 1-year compulsory internship, they have not received any stipends while others from government medical colleges are receiving it. Under such circumstances, the Medicos raised the question of how are they going to pay the bills if they are tested positive or have to receive treatment for COVID. They have also alleged that proper PPE kits or masks that ensure; their safety".
One of the medicos told Bangalore Mirror that "Doctors of government colleges. are getting Rs 30,000 per month. We work in private colleges and are not getting any stipend. Some of us are getting Rs 4,000 per month. Interns are also working at Covid-19 wards. At times, we are not given proper masks and good-quality sanitizers. We deserve stipends which are in par with the government."
The interns are also furious over the fact that they have urged the authorities to take necessary steps to improve the prevailing condition, however; the authorities didn't pay any attention to their perils, rather one of the medicos of a Bangalore private medical college informed that they have suddenly received a message on Thursday morning to report one of the teaching hospitals within two hours reports a leading daily. Moreover, previously the Rajiv Gandhi University of Health Sciences had sent a notice to all its affiliated colleges instructing them that their interns, postgraduate students, staff in all departments should be prepared to report for COVID-19 duty on short notice as with an increasing number of COVID cases, including the services of the medicos into the workforce became essential, one of the Medical officers informed a daily.
According to a recent media report, under such circumstances, the aggravated medicos staged a protest on Friday where they put their demands in front of the authorities. First, they claimed that the authorities should give guidelines on how will be treated if fallen sick. Next, they wanted clear instruction on whether they will be given their stipend and attendance if they are fallen sick as one of the medicos informed that if they are quarantined, the authorities might make them repeat the duty days that they missed, at the end of internship which will only delay their passing process.
Responding to the plea of the aggravated to Medicos, the medical education minister clarified that they will be taking an initiative of appealing to the Medical Council of India to take strict action against those hospitals and colleges who are not giving the Medicos their due stipend. Medical Education Minister K. Sudhakar informed TH that "Regarding other grievances that the students have raised if they send us specific complaints, we will attend to it immediately," he said adding that final year MBBS students and interns will be placed in COVID Care Centres and fever clinics."
On the other hand, the Medical Education Department also sheds light on the government's plan of paying a monthly honorarium to those students who are extending their services in several health facilities but are not receiving any stipend in return. "We have submitted a proposal to the government and want to pay students from private medical colleges a fixed monthly sum if they are posted on COVID-19 duty".