Karnataka: Resident Doctors Demand Right To Choose Between Covishield, Covaxin Before Administration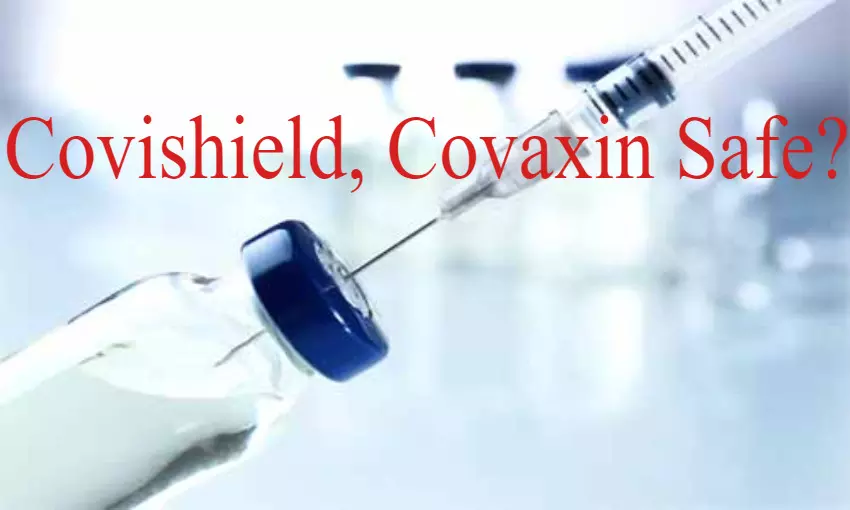 Bengaluru: Demanding that resident doctors and healthcare workers in the State should be given the right to choose between the two newly introduced Covid-19 vaccines, Covaxin and Covishield before inoculation, the Karnataka Association of Resident Doctors (KARD) has raised objections to Covaxin being administered to them while many centers in Karnataka receiving Covishield.

On January 3, India gave emergency use authorization to two COVID-19 vaccines - Covishield and Covaxin - both being manufactured in the country. While Covishield has been developed by AstraZeneca and Oxford University, Covaxin is an indigenous vaccine developed by Bharat Biotech in collaboration with the Indian Council of Medical Research (ICMR). On January 16, a massive pan-India Covid-19 vaccination drive was launched by Prime Minister Narendra Modi to pay tribute to healthcare workers, doctors, nurses, and scientists who were at the forefront of the fight against the pandemic.
However, in Karnataka, a disposition to incredulity towards the Covid-19 vaccine erupted after a 43-year-old health worker in Karnataka's Bellary died of cardiac arrest on Monday, barely two days after he was administered a Covid-19 vaccine. The deceased was a permanent employee of the health department who was vaccinated on January 16 around 1 pm and was normal till Monday morning.
"Today morning when he came to duty, he complained of chest pain at around 9.30 am and collapsed. He was treated immediately and referred to Jindal Sanjeeveni hospital for further treatment where he was admitted at 11.15 am. The highest level of treatment was provided, but he could not be saved," the department said in a statement as quoted by ANI on January 19.
In wake of the event, KARD moved a letter with the Karnataka Health Minister pointing out that the stage III trial of Covaxine developed by Bharat Biotech is still on and under such circumstances, they should be given the choice to decide whether to accept the vaccine or not.
The president of the Association, Dr. Dayanand Sagar also delivered a video message saying, "Central government has approved COVID-19 vaccine Covishield, and Covaxin. Covishield has at least got an interim analysis report. However, Covaxin is still in the phase-III trials, where the trial is being done on healthcare workers. We strongly condemn this. Health workers should be given a choice of the vaccine. We demand that govt should provide a vaccine which has interim analysis."

In the letter addressed to Dr K Sudhakar, Minister for Medical Education and Health, the association expressed its concern stating that they feel discriminated, as the resident doctors have been given COVAXIN while many other centers of Karnataka are receiving COVIDSHIELD.
At present, Covaxin is reportedly being administered only in district hospitals of Chikkamagaluru, Hassan, Ballari, Shivamogga, Chamarajanagar, and Davangere, reports The Indian Express.
" This is a matter of great concern that government has decided to inject vaccine whose phase 3 results are yet to be declared. The interim analysis report of COVIDSHIELD is available but the same is not true in the case of COVAXIN. The resident doctors feel that they have been discriminated against and gross injustice is caused to them," the letter read.
"… Before receiving Covaxin we have been made to take the undertaking stating that the clinical efficacy of Covaxin is yet to be established," the letter added.
"Further, the undertaking made to sign by us is worded suspiciously. Instead, healthcare workers should be given an option to choose a vaccine. The government should administer vaccines that have passed at least the interim analysis stage," he said.
The Association condemned the usage of Covaxin "on a trial basis" on healthcare workers. Dr Sagar explained that preference for Covishield is higher as Covaxin's interim analysis report is not available.
Stating that the government should become more active especially when it comes to the safety of the doctors, KARD demanded that the vaccine which has shown results with respect to safety and efficiency should be administered to doctors and health care workers and the right to choose a vaccine should be given in view of the fact that both vaccines are yet to complete phase 3 trials.
However, Dr Sudhakar on Tuesday said there is no choice given in selecting a vaccine as Drugs Controller General of India has cleared both Covishield and Covaxin.
Sudhakar said as quoted by ANI, "First of all, taking the vaccine is not mandatory. There is no choice given in selecting a vaccine as Drugs Controller General of India has cleared both Covishield and Covaxin. I humbly appeal to all doctors, citizens to accept Covaxin."
On Monday, Union Health Minister had stated that out of 3.81 lakh health care workers who received the COVID-19 vaccine in the three days (from January 16 to January 18), 580 beneficiaries reported adverse events following immunization (AEFI) and seven of them required hospitalization.
"So far, cumulative 580 AEFIs have been reported. A total of 7 beneficiaries required hospitalization. Three cases of an adverse event are reported in Delhi. Where two beneficiaries were discharged from their respective hospitals, the third beneficiary who fainted is under observation at Max Hospital, Patparganj," Additional Secretary in Health Ministry Manohar Agnani told at a media briefing on Monday.
According to a recent media report in
The Indian Express
, Karnataka reported an overall coverage of 47 percent during the Covid-19 vaccination drive on Monday, much lower than the 58.4 and 63 percent on Sunday and Saturday, respectively.
Meanwhile, Advocate Somnath Bharti has supported the demands of the resident doctors and tweeted;
To access the official letter by KARD, click on the link below-
Source : with agency inputs