Former AIIMS director, experts come in defense of Covid-19 vaccines- Covaxin, Covishield, slam skeptics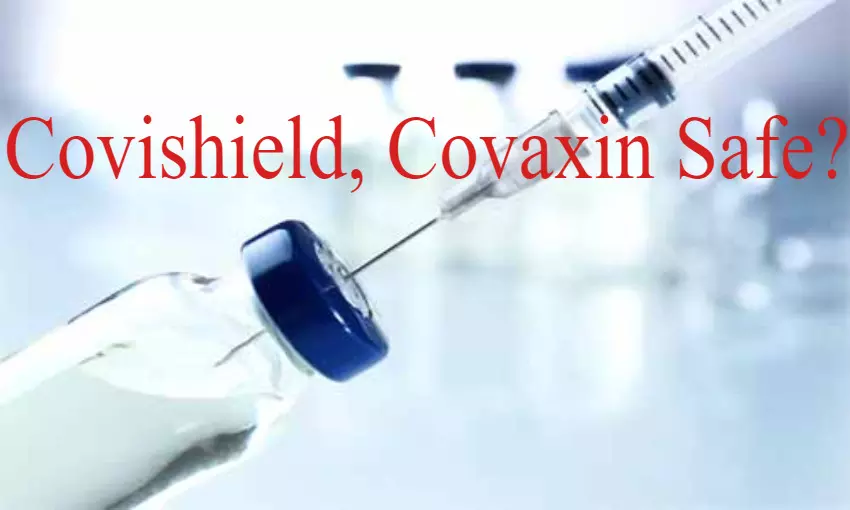 New Delhi: Slamming the skeptics for doubting the efficacy of two Covid-19 vaccines, Covishield and Covaxin, a group of 49 doctors, scientists, and medical professionals have come in defense of the vaccines stating that such reprehensible utterances are causing a huge credibility crisis for the Indian scientific community.

The group declaring support for the homegrown Covid-19 vaccines includes former AIIMS director Tirath Das Dogra; Ritambhra Nada, Professor Pathology, PGIMER, Chandigarh; N K Chaturvedi, Former Director and Medical Superintendent PGIMER, Dr RML Hospital, Delhi; M C Mishra, Former Director, AIIMS. Delhi and others.
The vaccines mired controversy soon after the Drug Controller General of India (DCGI) granted approval after a subject expert committee of the Central Drug Standard Control Organisation ( CDSCO) recommended these two vaccines for emergency use in India. Covishield was recommended for emergency use on January 1, whereas Covaxin was recommended for restricted use on January 2.
However, the approval of Bharat Biotech's Covaxin drew severe backlash, and several opposition leaders including Shashi Tharoor and other pharma bodies expressed their apprehensions regarding Covaxin.

"With respect to Bharat Biotech's vaccine, we are extremely alarmed and shocked because it signifies the grant of regulatory approval without any efficacy data. The Phase 3 trials are currently ongoing and it is too early for data to meet the criterion for an interim analysis. The only human data available on safety and immunogenicity is on 755 participants in phase 1 and 2 trials. Other than this there are data from animal studies," the All India Drug Action Network (AIDAN) said in a statement.
While leaders like Anand Sharma, Jairam Ramesh, and Shashi Tharoor asked the health minister to explain why mandatory protocols and verification of data "had been dispensed with", prompting a sharp retort from Union Minister Hardeep Puri who said the Congress leaders were behaving "true to their form" and were on a "quest for permanent political marginalization".
Also Read: AIDAN Slams Approval Of Covaxin, Expresses Alarm Over Lack Of Efficacy, Trial Data
Now in defense of the two vaccines, in a statement released on Thursday, Dogra said that though the efficacy data is not available, the safety parameters of Covaxin are very good and there is a robust immune response seen with this vaccine.
"Covishield still needs data from India on immunogenicity and efficacy but has been given emergency use authorization keeping in mind the difficult times due to the COVID pandemic," the signatories added.
Elaborating further, the experts are of the view that for Covaxin though efficacy data is not available safety parameters are very good and there is a robust immune response seen with this vaccine. Further, this vaccine is a whole virus inactivated vaccine that may have better protection even against mutant strains of the virus as the immune response will be against multiple antigens and not only against Spike protein.
This vaccine has thus been approved under clinical trial mode keeping in mind the spread of mutants strains speeding in India from Britain and South Africa. In times of emergency, it is important that immunogenicity is demonstrated. Moreover, these vaccines are cost-effective and can be conveniently stored at 2-8 degrees Celsius temperature. These vaccines are our gift to humanity, for one and all.
Meanwhile, for Covishield, a Recombinant Chimpanzee Adenovirus vector vaccine (Covishield) encoding the SARS-CoV-2 Spike (5) glycoprotein with technology transfer from AstraZeneca/Oxford University, they pointe dout that COVISHIELD has been developed at the SD Pune laboratory with a master seed from Astra Zeneca. This vaccine has undergone phase I, II, and III clinical trials of safety, immunogenicity and efficacy abroad. The efficacy was carried out on 23,745 participants aged 218 years or older. The overall vaccine efficacy was found to be 70.42%,.. At present, the SII and the ICMR are conducting Phase 2/3 clinical trials of COVISHIELD at 15 different centers in India as bridging studies. This vaccine has been given emergency use authorization by DCGI. The SU has already manufactured 40 million doses of the vaccine, under the at-risk manufacturing and stockpiling license from the Drugs Controller General of India. 'Bharat Biotech has developed a Whole Virion Inactivated Corona Virus Vaccine (Covaxin) in collaboration with ICMR and MV (Pune), from where they received the virus seed strains. This vaccine is developed on Vero cell platform, which has a well-established track record of safety and efficacy in the country & globally.
Safety and immunogenicity data for this vaccine were generated in various animal species such as mice, rats, rabbits, Syrian hamster, and also challenge studies on non-human primates (Rhesus macaques) and hamsters were also carried out. All these data has been shared by the firm with CDSCO. Phase I and Phase II clinical trials of Covaxin were conducted in approximately 800 subjects and the results have demonstrated that the vaccine is safe and provides a robust immune response. For phase 3 studies, more than 22000 volunteers' have been enrolled to determine the efficacy.
They also slammed the skeptics and said; We are, however, shocked to notice the irresponsible statements by vested interests in print, electronic and social media, who are defaming Indian scientific community and casting aspersions upon its integrity by making politicized statements doubting the recent research in the field of COVID-19 vaccines. Such reprehensible utterances are causing huge credibility crisis for the Indian scientific community who have devoted their lifetimes to make India a name to reckon with in the export of vaccines all over the world."
Subsequently, they asked people to reject the manipulations of vested interests aimed at politicization and defamation of our nation's scientists, doctors, and scientific community for their narrow vested interests.
"They need to realize that by doing so, these vested interests are wrecking the highly valued and credible scientific edifice created by us, which has made India a global leader in the export of vaccines all over the world," the statement added.

Currently, more than two-thirds of the total volume of the vaccines manufactured is exported while the rest is utilized domestically. Indian vaccine market reached a value of INR 94 Billion in 2019 and has still got the unused potential for the future.