Kerala Doctors plan Hunger Strike demanding Pay arrears due since 2016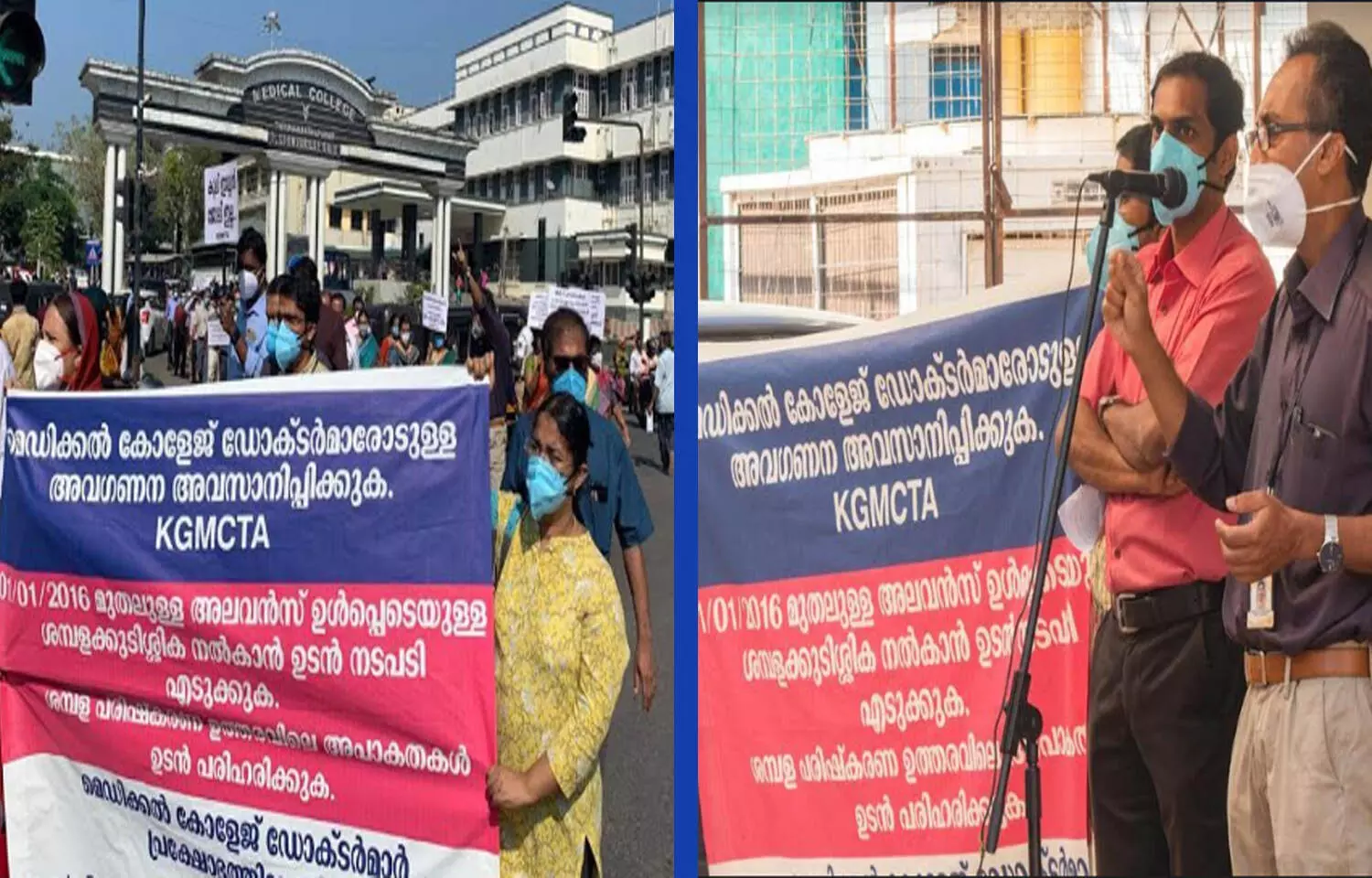 Kerala: The doctors attached to the Kerala Government Medical College Teachers Association (KGMCTA) recently observed a protest demanding payment of their due salaries that have been pending since 2016. The association has warned that they will be going on an indefinite strike from February 9th unless their demands are fulfilled.
The association head has further confirmed that they might contemplate going on a hunger strike at all the medical colleges from February 5th as well.

The doctors have demanded that authorities should take the necessary steps to give them their revised salary that has been due since 2016. They also want clarity regarding the arrears and allowances which they will be getting.
The association stated that the doctors of the Government Medical College, who were at the forefront of the COVID 19 pandemic, are dissatisfied. Even at the time of the 6-month salary cut, the doctors risked their lives to care for Category C patients and worked tirelessly.
The
KGMCTA
further added, "The pay revision order came on September 11, 2020, but no payslip has been received so far. There is no clarity about the amount of arrears including allowances from 01/01/2016. It has been ordered to pay the arrears to all the other employees who have made pay revisions so far. No decision has been taken in our case. No steps have been taken to rectify the discrepancies in the pay revision order."
"Do you ignore us who worked day and night during this period? We are so tired and frustrated that we don't even feel like protesting," t
he association questioned during the protest.
The association protested at Thiruvananthapuram Medical College, Kozhikode Medical College, and the DME office and also held a protest march on 25th January.
KGMCTA president Binoy S. told Medical Dialogues, " We get pay revision once in 10 years usually. Our pay revision has been due since January 2016. Our pay revision order came last September; the revision should be eligible from 2016 and not from 2019. We are not asking to pay us in cash, authorities can put it in pf also but we need an assurance."
"The KGMCTA State Committee strongly protests against the act of neglecting the medical college doctors who have worked for the government and the people at the cost of their own lives. Unless a decision is made on these matters immediately, the KGMCTA state committee opined that the association may go on to observe strike, including indefinite strikes," t
he association said in the statement.
The association confirmed that a token strike will be held from 8 a.m. to 11 a.m. at all medical colleges on January 29 and all the academic activities will be put to a halt. The OP, elective surgeries, and academic activities will be delayed by three hours. However, COVID-19 care, emergency services, and surgeries, ICU services, labour room, ward, and casualty would be exempted. From January 29, 2021, medical college doctors will boycott all Non-COVID meetings, board-meetings, academic duties, VIP duties and pay ward admissions if their demands are not fulfilled.
The association also decided that they will hold a 24-hour relay hunger strike (12 hours each) in all medical colleges on
February 5
. The association has further added, even after that if their demands are not given due importance, the association will hold an indefinite strike from February 9, 2021.