Final Year MBBS students demand Online Exam, MUHS sticks to Offline mode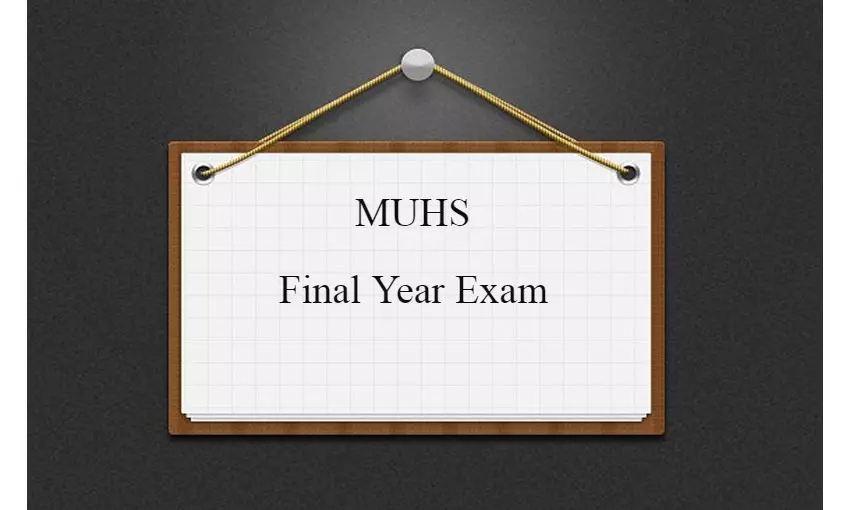 Nagpur: Fearing the rising numbers of COVID-19 cases and being worried about the safety in such a situation, the Maharashtra MBBS students have written to Maharashtra University of Health Science (MUHS) and medical education minister Amit Deshmukh with a request to hold their upcoming examinations online. The exams have been scheduled to start from March 8 on offline mode.

Students' representatives of final year MBBS students and general secretaries of GMCs at Nagpur, Akola, Yavatmal, Gondia, Chandrapur and NKP Salve Medical College have written to the minister on March 1.
However, as per the latest media reports, the officials of MUHS have decided to stick to the offline mode of examination. They have mentioned the internet connectivity in the hilly areas as the reason for concern.
Also Read: MUHS postpones final year MBBS, BDS, BAMS, BUMS, BSc Nursing exams

The letter from the Students Association of Government Medical College, Akola, had been sent to The Minister of Medical Education, Shri Amit Deshmukh stating their concern.

The letter dated 28/02/2021 had stated, "In 2020-21 MUHS completed the medical academic curriculum online also took internal exams online for the sole purpose of avoiding the risk of COVID 19 & preserving the health of their medical students."
"Until now 89 medical students & many medical students of final year of GMC Akola are currently positive for COVID 19 & also there is a surge in COVID cases over Maharashtra. Understanding this situation, today on 28/02/21 Minister of Higher Education & Technical Education (Maharashtra) Shri Uday Samantji declared that all University exams of technical, engineering & polytechnic will be held online for the convenience of students," further read the letter.

Stating the concern of the students and parents, the letter had further added, "As you know, it is very difficult for any COVID positive patients/students to study & they are not at all prepared both mentally & physically to write for exams. Also, no one can deny that there is high chances of infection at examination centers for students who are COVID negative Parents also extremely worried about the health of their wards in these circumstances."
"We request MUHS Nashik to take this 8th to 20th March Offline theory exams online rather than compromising the health of their final year medical students & future corona warriors. We hope you understand our situation & concern," the letter had thus mentioned the requests of the students.
युवासेना प्रमुख @AUThackeray साहेब
कृपया स्वतः लक्ष घालून #finalMBBSexam च्या विद्यार्थांना न्याय द्यावा ही विनंती!

42 विद्यार्थी positive असताना offline परीक्षा घेतल्यास आणखी संसर्ग होण्याचा मोठा धोका आहे.#muhsonlineexam #GMCNagpur #IGGMC @AmitV_Deshmukh pic.twitter.com/awseqMm02U

— Shubham Nagre (@shubs_n) March 1, 2021
Also Read: Nashik to get new medical college with 100 MBBS seats, attached hospital

As per the latest media report by the Times of India, at Nagpur alone, 42 final year students and 89 from GMC Akola have been tested positive for COVID-19. Many have also been tested positive from IGGMCH, Nagpur. The students have further complained that many of such affected students have been under treatment while many are in quarantine for over two weeks. The students have started an online campaign for their demands.

While commenting on the matter, one such student of GMCH Nagpur told TOI, "There is high risk of transmission during exams to those who are still not infected. Nobody at MUHS has so far responded to thousands of mails. We have even mailed and tagged the Twitter handle of the minister and authorities concerned. Unfortunately, there is no response."
On the other hand, MUHS controller of examinations Dr Ajit Pathak ruled out online examinations and told the daily, "Offline exams are being conducted as per directions of the high court."
A recent media report by the Times of India has added that the MUHS officials have mentioned that the proposal of conducting exams online would not be feasible.
The University has further mentioned that the asymptomatic students would be allowed to attempt the exam from a separate room in isolation at the exam center.
Ajit Pathak, the controller of examinations, has further informed the daily that as the university's jurisdiction had spread across the state, many colleges were situated in the hilly areas. He further added that due to this, the internet connectivity would be a problem.
Meanwhile, the students have been voicing their protest on their Twitter handles. One such user has written, "If University asks to sign any sort of undertaking that we'll be responsible for our own health...don't sign...make them(University not even college) take responsibility for every degree rise in temperature in every student."
If University asks to sign any sort of undertaking that we'll be responsible for our own health...don't sign...make them(University not even college) take responsibility for every degree rise in temperature in every student #JagoMUHS #muhsonlineexam

— Prachi (@PrachiSaner) February 28, 2021
Also Read: Maharashtra cabinet nod to 100 MBBS seat medical college hospital at Nashik
Source : with inputs