MARD demands equal distribution of COVID patients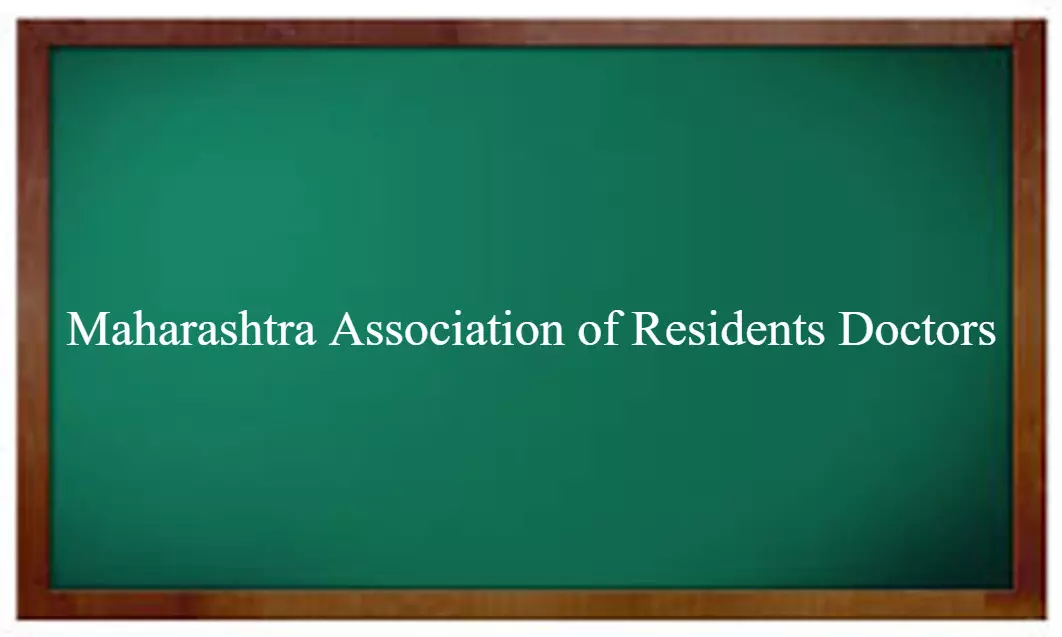 Mumbai: With the increasing cases of COVID victims in the state, the Maharashtra State Association of Resident Doctors (MARD) has recently submitted a letter to the Directorate of Medical Education and Research (DMER) pointing out several issues which the healthcare sectors are facing at the moment.

While expressing concern about the education of the trainee doctors and the treatment of the non-COVID patients, the association has put forward its demand of equal distribution of COVID victims in all the medical colleges instead of converting one particular facility into a COVID dedicated facility.

In the letter submitted to Dr Tatyarao Lahane, Hon'able Director, Directorate of Medical Education and Research, MARD stated, " Considering the common views of resident doctors The Central MARD Team wants some essential and definitive steps and not only assurance but on paper action from state government and administration so as to avoid agitation among doctors and its conversion into 'Pan Maharashtra strike' with the withdrawal of routine services like patient care from us for Non-COVID patients which may convert to the withdrawal of emergency services for Non-COVID patients."

The association further stated, "As resident doctors, Patient care is our utmost concern and to give our best in treating the patients, availability of basic essential drugs and logistics like gloves, needles, syringes, dressing materials, etc., in all the Govt medical colleges and hospitals of Maharashtra should be ensured. As there is a scarcity of the above logistics in maximum govt hospitals of Maharashtra, the resident doctors are overburdened and overworked again due to the COVID pandemic, and their academics are severely affected."

Dr Dnyaneshwar D, MARD state President told Medical Dialogues, " Equal distribution of COVID Patients is our immediate demand. We are not denying COVID services but Non-COVID patients must not suffer. Instead of converting a particular facility like Nair Hospital or another Nagpur hospital into a COVID dedicated facility, the government should take initiative to ensure that all the medical colleges are equally involved in treating the COVID patients all through the state. COVID and Non-COVID both services should remain open."
He further added that even if they have to arrange protests against the authorities to air their grievances, the doctors will ensure that no patients are left without treatment.

Hence, the association has put forward the following demands;
1.Stop the conversion of govt corporation-run medical college and tertiary care teaching hospital into dedicated COVID care hospital like Nair medical college and hospital, Mumbai so that the patient will get both COVID and non-COVID services which are the need of the hour. There should be no academic loss for the residents in their own speciality which is also very important considering the future of doctors in our country for social benefits. The authorities should divide COVID care in equal proportion in the same city among the govt medical college and hospitals according to the capacity of the hospital, start Non-COVID and COVID work at Nair medical college and hospital as soon as possible and remove the tag of dedicated covid care hospital for the same.
2 Recruitment of Doctors (MO, RMO, and HO) for covid duties and also Consider their COVID duty service as the bond which will attract Post MBBS students for doing job in govt hospitals for covid related work.
3. AYUSH Doctors should be involved in COVID treatment.
4. Don't Close Surgical dept OTs completely, keep Routine OT working for patient care and residents academic as surgical departments are facing the same issue since the covid pandemic.
5. Divert Room Air and Non-critical patients to COVID Care Centres from tertiary care hospital and increase the number of Covid care centers in each District.
6. Include MARD person in COVID duty schedule making Committee in each hospital so that they can convey actual difficulties faced by our residents during covid duty hours.
7. As the Academic Loss and Research Loss is there for 1 yr and seems that it will be the same for this year also, kindly Do Exemption in Academic fees decrease sample size, and cancel Poster/ Paper presentations for the thesis of resident doctors.
8. There should be no deduction in salary of resident on Hospitalization, quarantine, or post covid leave due to COVID INFECTION as it is a completely occupational hazard for resident doctors working day-night for covid patients care, and also there should be no term extension in the curriculum of a resident who was or will be on leave because of Post-COVID complications and post-Tuberculosis infection as these are completely occupational hazards.
9. There should be the provision of separate wards which will be reserved for the treatment of resident doctors for those who are getting infected with covid and requires treatment.
10. There should be the provision of adequate good quality PPE kits and NSS Masks for COVID ICUs and wards and also vaccination OPDs.
11. There should be health insurance coverage for the resident doctors considering the dreadful covid pandemic.
12. kindly restart post covid duty quarantine and accommodation services as given by govt last year.