Mumbai: 12 private hospitals directed to refund Rs 1,36 crore for allegedly overcharging COVID patients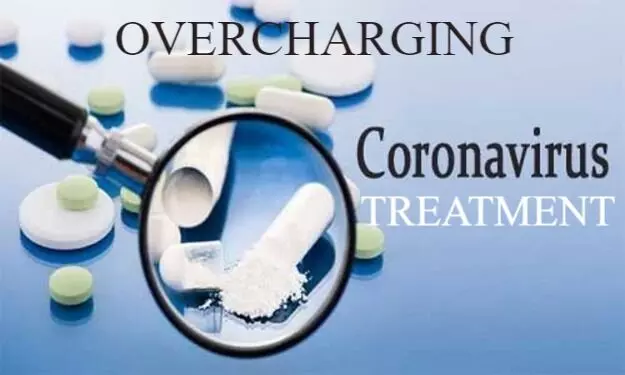 Mumbai: 12 private facilities of Navi Mumbai have been instructed by the Navi Mumbai Municipal Corporation to refund a whooping amount of rupees 1.36 crores to patients who had been earlier allegedly overcharged for their COVID-19 treatment.
As of September 13th, approximately 32.32 lakhs have been returned by the hospitals. This came after six teams deployed by NMMC started scrutinizing bills of private hospitals in order to determine whether they are following the price cap of the government; however, the team found discrepancies in the billing.

The hospitals which have been instructed to initiate the refund process includes Fortis Hospital, MGM Hospital, PKC Hospital, and Global Healthcare Hospital of Vashi; Friesen Hospital of Ghansoli; Sunshine Hospital, Terna Hospital, DY Patil Hospital, Reliance Hospital of Nerul; MCPT hospital of Sanpada; Apollo Hospital and MGM hospital of Belapur; Neurogen Hospital of Seawood; Siddhika Hospital of Koparkhairane and Indravati Hospital of Airoli.

The Hindu
reports that NMMC Pro Mahendra Konde informed that in 662 of the 812 bills scrutinized by the committee they have already marked discrepancies over rupees 62.88 lakhs. The state government initiated a price cap on COVID-19 treatment in private facilities in a notification dated May 20th and August 31st. NMMC chief Abhijit Bangar issued notices to health facilities under his jurisdiction and warned them that they will have to face serious consequences under the Section 3 of the Prevention of Infectious Diseases Act 1897 and sections 51 of 60 of the Disaster Management Act 2005 if any case of overcharging is found by the team.
On the one hand, the scrutinizing team found cases of an overcharging in several medical facilities, on the other hand, the NMMC COVID Bill Complaint Centre has also marked inconsistencies in the bills of some private healthcare facilities which amounted to 41.38 Lakhs. The Hindu reports that the screening committee found that Fortis Hospital in Vashi overcharged ₹17.86 lakh, Frisson Hospital in Ghansoli ₹14.41 lakh, Sunshine Hospital in Nerul ₹12.32 lakh, MPCT Hospital in Sanpada ₹10.90 lakh, and MGM hospital in Vashi ₹7.37 lakh.
Meanwhile, the NMMC's COVID Bill Complaint Center found discrepancies of ₹41.38 lakh in bills. The team found that ₹19.64 lakh was overcharged by Terna Hospital in Nerul, ₹6.36 lakh by DY Patil Hospital in Nerul, ₹3.42 lakh by PKC Hospital in Vashi, ₹2.50 lakh by Fortis Hospital in Vashi, ₹2.27 lakh by Apollo Hospital in Belapur, ₹1.42 lakh by Reliance Hospital in Nerul, ₹1.37 lakh by Neurogen Hospital in Seawood, ₹1.26 lakh by Frisson Hospital in Ghansoli, ₹1.15 lakh by Global Health Care Hospital in Vashi, ₹1.14 lakh by Siddhika Hospital in Koparkhairane, ₹56,161 by MGM Hospital in Belapur, and ₹29,000 by Indravati Hospital in Airoli.

Hindustan Times
reports that "A total of 12 hospitals have paid a refund to patients. Our team is working non-stop since we have been appointed by Pune divisional commissioner," said N Ashok Babu, joint commissioner, income tax department. He further added, "We are keeping an eye on hospitals which have not paid the refunds till now. Our aim is that people should get the refund as early as possible."
Source : with inputs