Hyderabad: Man impersonates as Nephrologist using MBBS, MD certificates, Arrested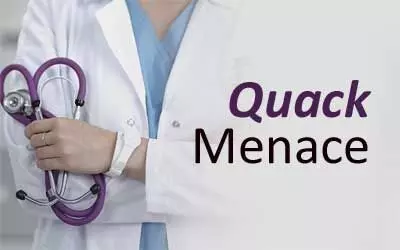 Hyderabad: In another incident of quackery, a man has been arrested for impersonating a consultant nephrologist. The accused allegedly submitted fake MBBS and MD certificates in the name of the doctor and secured jobs in private hospitals.
According to the police, the accused had no required qualification as a medical practitioner and was originally a compounder of an Ayurveda clinic.
The quack has been identified as a 48-year-old resident of Visakhapatnam and he worked in different hospitals by using the MBBS and MD certificates of another doctor who had no knowledge about it. He impersonated a 38-year-old doctor whose name was quite similar to his name and who was a consultant nephrologist at a private hospital.
The Hindu
reports that according to the police, the quack previously worked as a compounder in an ayurvedic clinic. In 2013, he started his own clinic at Vizag but he was running into losses, he closed it in 2016.
In 2016, while searching through the internet, he came across two certificates of a doctor whose name was quite similar to him. "As their names are similar, the accused downloaded MBBS and MD General Medicine certificates of Dr. ***** affixed his passport size photograph. Then he got one rubber stamp made in the name of Andhra Pradesh Medical Council, Hyderabad," police said. The doctor also used the certificates to obtain fake Aadhar and PAN cards in the name of the doctor in 2017 and he also secured a job in a hospital in Srikakulam in 2018. The accused was also paid rupees 80000 as salary for a few months by the hospital.
However, when the hospital management started suspecting him, he abruptly left his job without informing the authorities. He also worked in two separate hospitals of Andhra Pradesh after that.
Times of India
reports that the whole sham came to light after the real doctor applied for a pan card up-gradation. When he applied for the up-gradation, the income tax officials informed him that he had two different Pan cards under his name. The doctor was shocked to know this after which a case was registered and police started investigating the matter.
The doctor to whom the MBBS and MD certificate originally belonged is a resident of Malaysian Township, KPHB Colony. He told TOI, " I did not understand how can there be two PAN cards in my name? I approached the KPHB police, who investigated and found that a person in Andhra Pradesh was using my documents and had created fake MBBS certificates and working as a doctor."
The quack came to Hyderabad a few days ago with his fake certificates after his last hospital also started suspecting him. Police acted on the complaint of the
nephrologist and finally nabbed the accused and have put him under arrest for practicing quackery.
Source : with inputs