Uttarakhand Stipend Issue: 134 MBBS Interns of Doon Medical College rally outside College Campus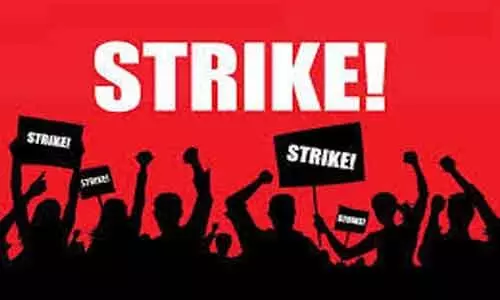 Dehradun: Four days have passed since the Uttarakhand MBBS interns went on strike protesting against their current stipend. However, as the Government hasn't yet paid attention to their problems yet, around 134 MBBS interns from Doon Medical College went outside of their college campus and organized a rally to raise their voice regarding the low stipend, which is Rs 7,500 per month, i.e. Rs 250 per day.

Protesting against the current stipend, these medical interns from Doon Medical College arranged a procession from the college campus to Kali Mandir Chowk. During their procession, they voluntarily tried to make people aware of the vaccination out of their sense of responsibility as doctors.
Medical Dialogues had recently reported that getting no response from the Government, around 330 medical interns from 3 Government Medical Colleges in Uttarakhand resorted to strike. These interns include students from Doon Medical College, Dr. Susheela Tiwari Government Medical College and Hospital, Haldwani, and interns from VCSG Medical College, Srinagar.
Protesting against the situation where the MBBS interns in Uttarakhand get the lowest stipend (Rs. 7,500) in the country, which hasn't been revised in the last 10 years, they are seeking an immediate increase in their stipends and have given a call for "One Nation, One Stipend". They have sought that the Government increases their stipend to Rs. 23,500 per month, making it on par with other States.
The issue began in May, when they stopped receiving their stipends even after working day and night and continuing with their COVID duties. In fact, they also held a candle march as a symbolic protest against the lowest monthly stipend for medical interns in India.
As per the latest media report by the Times of India, some of the interns got infected with COVID-19 and the condition of one such intern became so serious that he needed to be taken to AIIMS Rishikesh. However, even after their continuous effort to attend to the patients instead of their own parents who also got infected with the disease, they also didn't get their additional emoluments of up to Rs 60,000 promised to them by the state medical colleges.

Although working in the COVID ward help them gain experience, Akshat Thapa, representative of agitating MBBS interns at Doon Medical College hospital told the daily, "It is part of our education to practice at the hospital but since we are being deployed in Covid wards under critical pandemic situation, we would urge the administration to kindly consider our request on humanitarian grounds as we are risking our lives."
Meanwhile, speaking to Medical Dialogues, Dr. Risab Aggarwal, Joint Secretary of IMA-JDN Uttarakhand said, "Yesterday we took a march outside the college campus. It was around a 1 hour/2-hour march. 134 students from Doon Medical College actively participated in it. Although students from other medical colleges didn't organize a similar procession, they are continuing with the strike."

"At that time we also spoke to people regarding vaccination and tried to make them aware about it. It was not our job or part of your agendas, but we did it voluntarily, as we felt it was part of our duty," he added.
When asked if the Government has responded yet, Dr. Risab added, "The reference letter has been sent to the authorities from our colleges. However, we haven't received any response from the Government yet."
Meanwhile, Hem Chandra Pandey, VC, HNB Uttarakhand Medical Education University told TOI, "We have already forwarded their file and request for Rs 30,000 emolument for working in Covid wards, but increasing their stipend is a matter that only the state government can decide. It is not under the jurisdiction of the Medical Council of India," adding that the amount of the stipend depends solely on the economic condition of a state.
Also Read: With stipend of Rs 250 per day, Uttarkhand MBBS interns getting far less than minimum wages
Source : with inputs