WBUHS PG Medicos demand deferment of exams as COVID-19 cases surge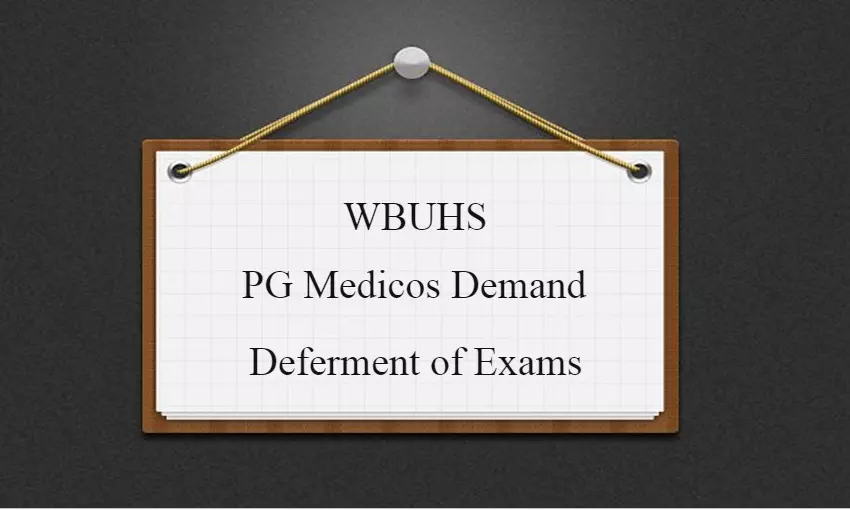 Kolkata: Expressing concern over appearing for the final year Post Graduate examinations amid the rising COVID-19 cases, the PG students of West Bengal University of Health Sciences have appealed before the concerned authorities for the deferment of the examination. The students are also concerned regarding the situation where many of the students are infected with the disease or under isolation.
More than 3,000 students who are set to appear for the examination had been deployed in the Covid-19 duties to deal with the pandemic. Most of those students belonging to final-year MD/MS/Diploma courses in different specialities of various medical colleges are currently on the study leave and some have even tested positive for the coronavirus.
Medical Dialogues had earlier reported that WBUHS had notified a tentative schedule for the PG Degree and Diploma examinations of Modern Medicine for the academic batch of 2018 – 2021.
It has been decided to schedule the PG Degree and Diploma theory examinations of Modern Medicine for the academic batch of 2018 – 2021 on 6th, 8th, 10th, and 12th May 2021, tentatively.
Similarly, practical exams for the above courses of 2018-2021 batches have been tentatively scheduled between 17th -29th May 2021.
However, with the second wave of the pandemic hitting harder than before, the final year PG students have expressed their concerns as they have to appear for the examination from the first week of May.

Addressing the situation where many of the examinees are infected, a final-year PGT doctor at NRS Medical College and Hospital told the Times of India, "Some of us are infected and in isolation or on treatment. There is no clause under WBUHS that one can take the examinations from isolation. Therefore it is only fair for the examinations to be deferred."
Expressing concerns to appear for the examination amidst the rapid surge of Covid-19 cases, another final-year PGT student at RG Kar Medical College mentioned before the daily, "Can you imagine the number of cases there is going to be by the end of this month? Each hospital will be swarmed by Covid patients. Will the environment be conducive to an exam?"
"This workforce will not be available for Covid duties till June 15 (declaration of examination) or other hospital services. One of us might become infected during the physical exam and carry the virus back to either the hostel or home," said another final-year PGT at Medical College Hospital.
Agreeing that conducting the examination would bear negative results considering the current circumstances, the medical teachers suggested modifying the examination if deferring it would not be possible.
While commenting on the issue, Manas Gumta, professor of general surgery told TOI, "Many of them are posted in Covid wards and some are still infected. The university can at least think about modifying the method of examination — may be on the basis of internal assessment and some online examination."
Also Read: WBUHS to open University Online Registration Portal for fresh nursing, AYUSH candidates, Details
Source : with inputs