States should draw up plans to fight diseases: Nadda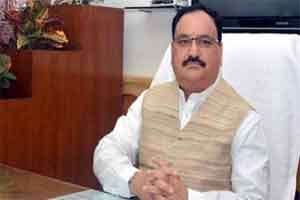 Assuring the Lok Sabha that the government is "vigilant" to control various diseases, Union Health Minister J.P. Nadda urged the states also to draw adequate plans to fight the maladies.
"We have been able to arrest malaria. We have been able to curtail and bring down kala azar incidents a lot. We are trying to do our best, but it is the state governments who have to take the initiative," Nadda said in the Lok Sabha during question hour.
Answering queries from members, he said till July 24, there were 21 deaths due to dengue, 70 due to Japanese encephalitis and 57 due to malaria.
"If a state comes out with a programme, the central government is always there to help. We can also give them technical support and also capacity-building support," Nadda said, adding that the Centre also supported the states to deal with various other vector-borne diseases.
To supplementary questions from members, including from Rajiv Satav (Congress), Nadda said the government had issued 10 advisories till recently on dengue. "Moreover, I have conducted video-conferencing with state health ministers."
"...all types of financial supports are there. We are vigilant in this regard. For vector-born diseases, even urban local bodies have to play a part," the minister said.
Responding to a question from Ratan Lal Kataria (Bharatiya Janata Party), Nadda said members of parliament have been given power to oversee the functioning of the National Rural Health Mission.
"Elected MPs are chairmen of the district-level vigilance committees. They have to see whether in their districts, all types of activities are going on," Nadda added.