Status of Mission Indradhanush in India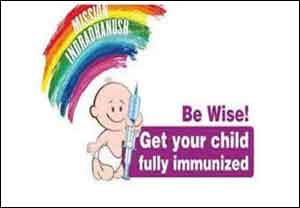 New Delhi: 
Mission Indradhanush is an important initiative taken by the government of India to immunize kids against 7 vaccine-preventable diseases
Through a written reply answer to the question in Lok Sabha the Minister of State (Health and Family Welfare), Smt Anupriya Patel informed about the Mission Indradhanush.
The ministry informed about the mission Indradhanush aims to increase full immunization coverage in India to at least 90% children by December 2018. The salient feature of Mission Indradhanush is to cover unvaccinated and partially vaccinated children in areas with low immunization coverage, in both urban and rural areas. The State/UT-wise details of children and women vaccinated including Uttar Pradesh under Mission Indradhanush is given at 
Annexure-1
.
No separate funds are allocated for Mission Indradhanush. Funds allocated for Routine Immunization under part 'C' of Programme Implementation Plan (PIP) are being utilized by the states to carry out activities under Mission Indradhanush.
The minister further added that Mission Indradhanush does not target to reduce postnatal death rate but targets to reduce diseases and death due to vaccine-preventable diseases.
The State/UT-wise number of children and women vaccinated during the year 2017-18 is given at 
Annexure-2.
Routine Immunization which is implemented across the country has been further strengthened through Mission Indradhanush. Mission Indradhanush has been implemented in low coverage pockets and has been expanded during (i) Intensified Mission Indradhanush (ii) Gram Swaraj Abhiyan and (iii) Expanded Gram Swaraj Abhiyaan.
State UT wise Children and Women Vaccinated under Mission Indradhanush(in Lakhs)




S.No


State/UT


No. of Children Immunized


No. of Pregnant Women Immunized




1


A & N Islands


0.007


0.000




2


Andhra Pradesh


2.018


0.426




3


Arunachal Pradesh


0.584


0.071




4


Assam


3.820


1.035




5


Bihar


14.887


3.316




6


Chandigarh


0.055


0.007




7


Chhattisgarh


4.915


1.117




8


Dadra & Nagar Haveli


0.006


0.001




9


Daman & Diu


0.009


0.002




10


Delhi


13.465


2.054




11


Goa


0.008


0.001




12


Gujarat


5.537


1.337




13


Haryana


10.948


2.951




14


Himachal Pradesh


0.127


0.028




15


Jammu & Kashmir


0.953


0.080




16


Jharkhand


8.615


2.108




17


Karnataka


9.059


1.788




18


Kerala


1.443


0.117




19


Lakshadweep


0.000


0.000




20


Madhya Pradesh


24.122


7.070




21


Maharashtra


6.435


0.820




22


Manipur


0.551


0.110




23


Meghalaya


1.324


0.217




24


Mizoram


0.171


0.043




25


Nagaland


0.661


0.103




26


Odisha


3.852


1.107




27


Puducherry


0.006


0.001




28


Punjab


1.900


0.414




29


Rajasthan


16.408


4.257




30


Sikkim


0.006


0.001




31


Tamil Nadu


6.745


1.650




32


Telangana


2.524


0.422




33


Tripura


0.277


0.054




34


Uttar Pradesh


169.591


47.155




35


Uttarakhand


2.848


0.775




36


West Bengal


5.406


1.142




INDIA


319.282


81.780




State/UT-wise children & women vaccinated in Mission Indradhanush during 2017-18(in Lakhs)




S.No


State/UT


No. of Children Immunized


No. of Pregnant Women Immunized




MI


IMI


Total


MI


IMI


Total




1


A & N Islands


NA


NA




NA


NA


0




2


Andhra Pradesh


0.341


0.220


0.561


0.050


0.034


0.084




3


Arunachal Pradesh


0.102


0.120


0.222


0.013


0.013


0.026




4


Assam


0.310


0.307


0.617


0.071


0.072


0.143




5


Bihar


1.610


2.687


4.297


0.358


0.467


0.825




6


Chandigarh


NA


NA


0


NA


NA


0




7


Chhattisgarh


0.613


NA


0.613


0.169


NA


0.169




8


Dadra & Nagar Haveli


NA


NA


0


NA


NA


0




9


Daman & Diu


NA


NA


0


NA


NA


0




10


Delhi


2.636


1.146


3.782


0.415


0.121


0.536




11


Goa


NA


NA


0


NA


NA


0




12


Gujarat


0.462


0.317


0.779


0.141


0.056


0.197




13


Haryana


0.517


0.869


1.386


0.205


0.226


0.431




14


Himachal Pradesh


NA


NA


0


NA


NA


0




15


Jammu & Kashmir


NA


0.098


0.098


NA


0.009


0.009




16


Jharkhand


1.275


0.607


1.882


0.371


0.133


0.504




17


Karnataka


2.076


0.704


2.78


0.311


0.133


0.444




18


Kerala


0.333


0.051


0.384


0.030


0.006


0.036




19


Lakshadweep


NA


NA


0


NA


NA


0




20


Madhya Pradesh


4.002


2.830


6.832


1.379


0.598


1.977




21


Maharashtra


1.183


2.099


3.282


0.126


0.265


0.391




22


Manipur


0.077


0.070


0.147


0.015


0.013


0.028




23


Meghalaya


0.131


0.250


0.381


0.021


0.038


0.059




24


Mizoram


0.036


0.020


0.056


0.011


0.005


0.016




25


Nagaland


0.125


0.162


0.287


0.020


0.022


0.042




26


Orissa


0.021


0.156


0.177


0.006


0.030


0.036




27


Puducherry


NA


NA


0


NA


NA


0




28


Punjab


0.265


NA


0.265


0.066


NA


0.066




29


Rajasthan


1.508


0.724


2.232


0.401


0.146


0.547




30


Sikkim


0.002


0.002


0.004


0.000


0.000


0




31


Tamil Nadu


0.711


NA


0.711


0.188


NA


0.188




32


Tripura


0.884


NA


0.884


0.089


NA


0.089




33


Uttar Pradesh


0.012


0.086


0.098


0.004


0.013


0.017




34


Uttarakhand


26.483


45.186


71.669


8.501


9.330


17.831




35


West Bengal


0.376


0.396


0.772


0.117


0.107


0.224




36


Telangana


0.560


0.389


0.949


0.108


0.020


0.128




INDIA


46.649


59.495


106.144


13.184


11.857


25.041