Stop Quackery in name of testing Laboratories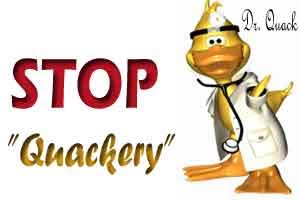 Delhi Medical Council recently suspended a pathologist for a period of one year on account of professional misconduct for selling his name and signature to a laboratory which did not even have required infrastructure. This incident has brought up issue of quackery prevalent in field of diagnostics and illegal laboratories mushrooming in National Capital Territory of Delhi.
It is a known fact that, in absence of a stringent laws, there has been a sharp rise in number of illegal laboratories in many parts of Capital city in recent times especially in slums and semi urban areas. Most of these labs are being run by technicians, holding either a Diploma in Medical Laboratory Technology (DMLT) or a Certificate degree in Medical Laboratory Technology (CMLT), which qualifies one to conduct tests but only under a pathologist's supervision. In most of such places the lab technicians just use the electronic signature of a pathologist who has agreed for financial consideration, to put his signature on reports not prepared under his supervision. However, there are some laboratories which do not even have full-time or part-time qualified technicians and the pathologists have not even visited the laboratories even once.
This illegal practice is not confined to Delhi only and is prevalent throughout India.Earlier in this year Maharashtra Medical Council suspended four pathologists for selling their signatures to private laboratories many of which did not even have qualified technicians working in it.
As of now a person wishing to run a laboratory has to acquire Shops and Establishments License from the municipal corporation and show that they have a pathologist on rolls. The state government does not carry out due diligence to ensure that a qualified pathologist is present at all times to sign reports. In spite of the fact,that there have been interim orders of various high courts including Maharashtra, Madhya Pradesh, Gujarat and Andhra Pradesh clearly stating that only a pathologist possessing a M.D. degree in Pathology can run a lab and sign reports. Due to state governments not able to enforce the honorable Court's orders lab technicians and quacks are openly flouting court orders.
Laboratory services are an integral part of disease diagnosis, treatment and for monitoring response to treatment. Laboratory tests are used to support diagnosis in patient care therefore test results should be reliable, accurate and reproducible. It is therefore necessary to ensure that the tests have been conducted properly following standard operative procedures an under supervision of a qualified pathologist.
In India, the law permits pathologists to work in multiple laboratories, but norms demand that they should be physically present while samples are being tested in the laboratory, before they make an analysis and sign the report. The law doesn't lay out guidelines as to how many labs a pathologist can be associated to as a point of time. Seeing this gaping hole, pathologists are selling their signatures and certifying reports of tests which have not been conducted under their supervision. All such pathologists,who are violating rules to generate extra income must be severely punished by the Medical Council of respective state in which they practice.
A high level committee needs to be constituted to lay down guidelines for maximumnumber of laboratories a pathologist could attach himself or herself with. This will ensure that a pathologist is not attached with a lab just for monetary benefits. It is the need of the hour that this unethical practice of running illegal laboratories should be stopped. Although the technicians who are running labs by themselves are not registered with Medical Councils and no direct action can be initiated against them by respective Medical Councils but they can certainly be booked under the legal provisions of Anti-Quackery. Furthermore ,Clinical Establishment Act Standards for Medical (Clinical) Laboratory with respect to space requirement, Infrastructure,Essential Furniture and fixture, essential equipment , human resource requirement and medical records may be strictly enforced at the time of Registration of Laboratory and its Regulated from time to time.
Please share your views how this menace can be tackled.