Story of Many: Doctor tenders resignation after being humiliated by patient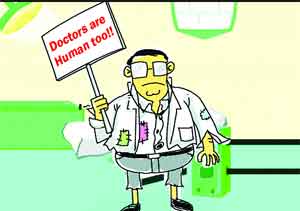 Vellore: In a story that would strike a bell with most medical practitioners in the country, Criticism, despite non-stop service, has driven a government doctor to tender his resignation from service.
A recent report in TOI narrates the story of Dr Sathiaraj Nesan, 44, who had been, associated with  Government Hospital (GH) in Vaniyambadi since 2007. For his distinguished service, the doctor has been honored as the best government doctor in Vellore five times, and he also holds into his credit, the successful establishment of an exclusive unit for the Ophthalmology department, where he has performed over 7,000 successful cataract (SICS and PHACO) surgeries, glaucoma surgeries, autograft and oculoplastic surgeries, since 2010. Even in the month of August 2017, he reportedly performed 99 surgeries out of the 167 that were done at the Institute.
The distinguished doctor recently became the subject of utter humiliation at the hands of 10-15 attendants of a patient. TOI reports that the incident goes back to August 29, when a 20-year-old boy came to the doctor with complaints of fever and cold. Since the doctor was attending to another patient at that time, he requested the patient to go to the nurse. When questioned by the boy's father, the doctor explained that he had seasonal flu. This answer angered the father, and a result, a mob of 10-15 people soon barged into the doctor's room and began humiliating him.
"They took movie CDs that I had in my bag and spread it on my table. They questioned and harassed me that I was watching movies during duty. I explained to them that I watch movies only when I am free, but they built a case against me to shame me and it was flashed on TV channels. It humiliated me and also put my family in an unwanted situation," he told
TOI
Disillusioned after the incident, the doctor has now tendered his resignation, stating that he was targeted by people with vested interest. "I strongly doubt that it was not an instant reaction of the public. It was a planned one against me," he said. "I do not feel safe to continue my service in Vaniyambadi GH after the incident. Hence, I submitted my resignation letter to the medical officer (Dr Usha Gnanasekaran) on September 1. Though they did not accept my letter, I am not ready to go there," he added
Dr Nesan's resignation has indeed struck a chord with many medical practitioners, who are not only humiliated on a regular basis at the hands of disgruntled patients but are even subjected to physical violence, depending on the whims of the mob that often accompanies a patient in government hospitals. Medical Dialogues team had recently reported that 35 doctors associated with a Madhya Pradesh hospital had submitted their mass resignation after their colleagues were brutally assaulted by a mob.
Read ALso  35 doctors mass-resign, after assault on colleagues