Case of posttraumatic patella osteomyelitis with MRSA infection: A report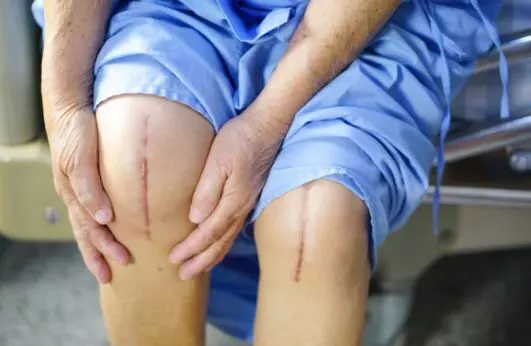 Dr Haiyong Ren at Department of Orthopedics, Tongde Hospital of Zhejiang Province, Zhejiang, China and colleagues have reported a case of posttraumatic patella osteomyelitis in a 31 year old man infected with methicillin-resistant staphylococcus aureus (MRSA) that was successfully managed after multiple surgeries. The report has been published in BMC Surgery.
Posttraumatic patella osteomyelitis is rare. At present surgical treatment remains the most important therapy of posttraumatic osteomyelitis . Surgical treatment requires thorough debridement of infected or necrotic tissues and may easily cause soft tissue or bone defects. Inexperienced surgeons might be perplexed about repairing large tissue defects and would be more likely to debride incompletely. Residual pathological tissues would cause persistence of infection or further result in knee joint infections.
The 31 years old man was transferred to our hospital with history of closed fracture of the right patellar after fall injury 13 months ago. He was treated surgically with open reduction tension band wiring at a local hospital. The patient developed wound infection after surgery. The wound was debrided 3 times in the following half a year and he also received long term antibiotic treatment, but no improvement was achieved. The fluid culture was negative and fluid analysis showed the WBC was less than 1000/mL, which suggested no joint infection .
Surgical debridement was performed 4 days after admission to our hospital. Necrotic and inflammatory tissues were found in the deep end of sinus tract and were very close to the wires . The abnormal tissues were completely excised. The wires were removed, and the tracts of the wires were thoroughly debrided with a curette.
On admission, the physical examination revealed normal body temperature. Mild swelling and normal skin surface temperature of the right knee was observed. A 10 × 5 mm sinus tract was located close to patella, and the range of motion (ROM) of the knee was 0°–40° . Bacterial culture of the exudations at the sinus was MRSA. The knee was immobilized with a straight brace for 2 weeks. No sign of infection was observed over the following 1 year . Radiograph at follow-up showed no bone destruction of patella.
The patient claimed difficulty with climbing stairs and squatting due to right knee stiffness. No significant improvement was achieved after therapy for about 1 year with guidance from a rehabilitation physician. The patient therefore appealed for further treatment and rehospitalized 1 year after the last discharge from our hospital. Ilizarov external fixation was chosen to manage the knee stiffness.
After removal of the external fixation, the patient performed further active and passive knee motion exercises. The last follow-up visit was 2 months after removal of the fixators. Laboratory inflammation markers were normal. The knee presented normal appearance and ROM of the joint was 0°–130°. The patient claimed no pain and no obvious obstacles when climbing stairs or squatting .
"We believe that adequate debridement is the key to control infections of osteomyelitis. Possessed with plastic techniques or microvascular skills could help surgeons dispel the hesitations to perform sufficient debridement. Meanwhile, use of flaps and implantation of antibiotic-releasing carriers, as well as choosing suitable antibiotics could all play important roles in osteomyelitis treatment. Adequate debridement and repairmen of the wound by one-staged surgery could shorten the knee immobilization time. When knee stiffness occurs, scheduled ROM adjustment using Ilizarov frame with hinges could gradually remodel the tissue structures without invasive procedures, which might be a safe and useful method to manage joint stiffness."said the team.
For the full article follow the link: https://doi.org/10.1186/s12893-020-00996-1
Primary source: BMJ surgery
Source : BMJ surgery