Frailty in old age associated with complications after cholecystectomy: Study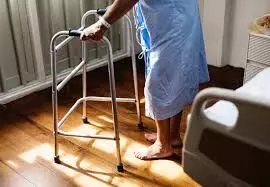 USA: Frail patients undergoing cholecystectomy are at a higher risk of adverse postoperative outcomes, according to a recent study in the journal HPB.
Cholecystectomy is the surgical procedure for the removal of the gall bladder. It is commonly used for the treatment of symptomatic gallstones and other gallbladder conditions.
Frailty is a geriatric syndrome characterized by weight loss, weakness, and low activity that potentially affects postoperative outcomes. Considering this, David Uihwan Lee, Tufts Medical Center, Boston, MA, USA, and colleagues aimed to evaluate the relationship between clinical frailty and post-cholecystectomy outcomes using a national registry of hospitalized patients.
For this purpose, the researchers used the 2011-2017 National Inpatient Sample database to identify patients who underwent cholecystectomy. Using the Johns Hopkins ACG frailty definition, the patients were stratified into binary (frailty and no-frailty) and tripartite frailty (frailty, prefrailty, no-frailty) indicators. The controls were matched to study cohort using 1:1 propensity score-matching and postoperative outcomes were compared.

Key findings of the study include:

· Post-match, using the binary term, frail patients (n=40067) had higher rates of mortality (OR 2.07), length of stay, costs, and complications. In multivariate, frailty was associated with higher mortality (aOR 2.06).
· When using tripartite frailty term, prefrail (n=35595) and frail (n=4472) patients had higher mortality (prefrailty: OR 2.04; frailty: OR 2.49), length of stay, costs, and complications.
· In multivariate, prefrailty and frailty were associated with higher mortality (prefrailty: aOR 2.02; frailty: aOR 2.54).
"This study shows the presence of frailty (and prefrailty) is an independent risk factor of adverse postoperative outcomes in patients undergoing cholecystectomy," concluded the authors.
Reference:

The study titled, "The impact of frailty on the postoperative outcomes of patients undergoing cholecystectomy: propensity score matched analysis of 2011-2017 US hospitals," is published in the journal HPB.
DOI: https://www.hpbonline.org/article/S1365-182X(21)00173-8/fulltext
Source : HPB