Robotic Surgery Not Superior to laparoscopy or open surgery, reveals Study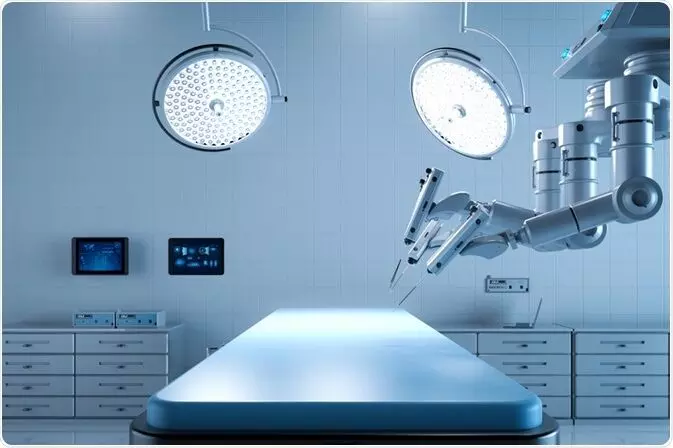 Robot-assisted surgery currently offers no clear advantage over laparoscopy or open surgery, reveals a systematic review and meta-analysis.
Robotic surgery are surgical procedures that are done using robotic systems. Robotically-assisted surgery was developed to overcome the limitations of pre-existing minimally-invasive surgical procedures and to enhance the capabilities of surgeons performing open surgery.
However, robot-assisted surgery currently offers no clear advantage over laparoscopy or open surgery, and it increases operative duration compared with laparoscopy, according to a systematic review published in the Annals of Internal Medicine.
As a whole, abdominal surgeons possess excellent videoendoscopic surgical skills but there are limitations of laparoscopy. These include reduced range of motion and instrument dexterity and 2-dimensional view of the operative field which have inspired even the most accomplished laparoscopists to investigate the potential of surgical robotics to broaden their application of the minimally invasive surgery paradigm.
In the case of robotically-assisted minimally-invasive surgery, instead of directly moving the instruments, the robotic arms carry out those movements and perform the actual surgery.
While robotic surgery has been proven to be safe and effective, it was not yet clear whether it has any definite advantages over laparoscopy or open surgery.
With this background, Naila H. Dhanani, M.D., from McGovern Medical School at UT Health in Houston, and colleagues examined the quality of evidence and outcomes of robot-assisted surgery compared with laparoscopy and open surgery in a review of 50 studies with 4,898 patients undergoing abdominopelvic surgery.
The researchers found that four (10 percent) of the 39 studies that reported incidence of Clavien-Dindo complications showed fewer complications with robot-assisted surgery. No difference was seen in intraoperative complications, conversion rates, or long-term outcomes in the majority of studies. Compared with laparoscopy, robot-assisted surgery had longer operative duration, but no obvious difference was seen compared with open surgery.
"Robot-assisted surgery has established itself as safe and effective but has not yet shown clear clinical benefit over either laparoscopy or open surgery. It comes at a substantial economic price and with significantly longer operative duration," the authors concluded.
Reference:
Source : Annals of Internal Medicine