Review: Overlay of Hemorrhoidal Disease and Chronic Venous Disease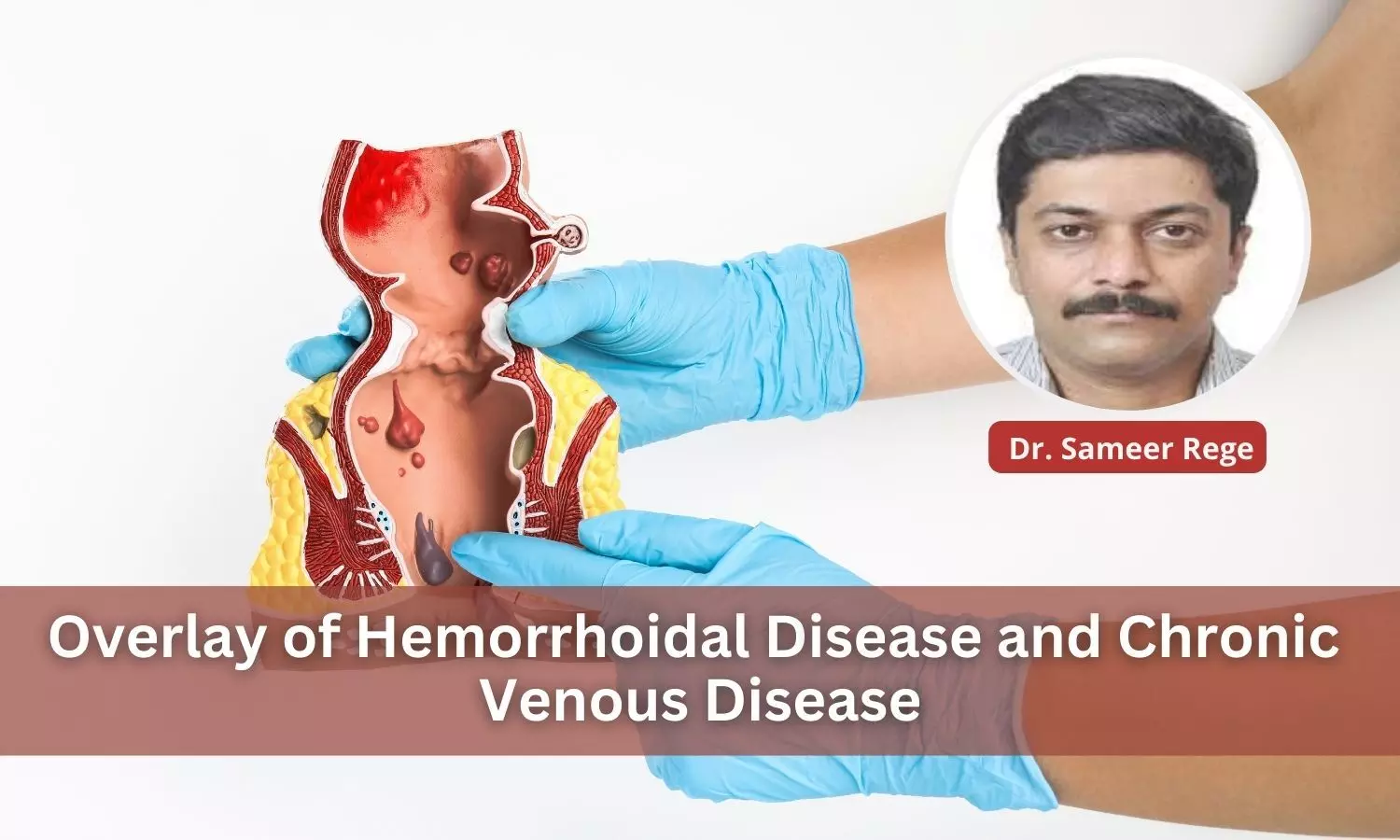 Introduction

Chronic venous disease (CVD) affects a large portion of the general population and is a persistent, progressive, and generally unnoticed condition with significant socio-economic, physical, and psychological consequences. A wide range of venous disorders that substantially impair blood return is included under CVD. [1] The most widespread symptom of CVD is varicose veins (VVs). Although clinical symptoms can appear in any vein in the body, the venous system in the lower limbs is frequently the structure most susceptible to developing CVD. [1]
Hemorrhoids are a type of chronic venous disease, which are characterized by the symptomatic expansion and distal displacement of the typical anal cushions and are a relatively pervasive form of anorectal disease. [2]
Pathophysiology
CVD is a complicated illness characterized by intricate pathophysiological pathways. Increased ambulatory venous pressure and vein dilation in the lower limbs induce an intricate vascular response, resulting in stasis and secondary inflammatory response, as well as altered shear stress. The two main pathomechanisms leading to considerable alterations in the venous wall and pathological venous reflux, and hence contributing to the evolution of CVD, are obstruction and reflux. Furthermore, these aberrations result in the formation of a hypoxic environment, which is thought to have a significant role in the pathogenesis of the disease. [1]
In hemorrhoids which is a type of chronic venous disease, there is a prolapse of tissue into the anal canal by engorgement and straining. Thus, anatomic support of this hemorrhoidal complex system deteriorates over time, exposing this tissue to the exterior of the anal canal, where it is vulnerable to injury. External and internal hemorrhoids are the two major clinical types of hemorrhoids. External hemorrhoids develop below the dentate line, which is coated with squamous epithelium and are linked to an internal component. When external hemorrhoids get thrombosed, they become painful. The majority of hemorrhoids are internal hemorrhoids that arise above the dentate line and are coated with mucosa and transitional zone epithelium. When external hemorrhoids get thrombosed, they become painful. The majority of hemorrhoids are internal hemorrhoids that arise above the dentate line and are coated with mucosa and transitional zone epithelium. [3]
Hemorrhoidal Disease & Chronic Venous disease: Concomitance or Coincidence? – Results of the International CHORUS Study
The Chronic venous and Hemorrhoidal diseases evaluation and Scientific research (CHORUS) an international multicenter survey was conducted in seven nations, including India, Belgium, Mexico, Thailand, Pakistan, Russia, and Slovenia. The study aimed at gathering information on patients who present with hemorrhoidal disease (HD) in clinical practice, as well as investigating the frequency with which HD coexists with CVD. Patients with hemorrhoids were graded according to the Golighers classification in which 4 grades were assigned with their respective signs and symptoms and which management options should be adopted, while CVD was classified according to CEAP[Clinical-Etiology-Anatomy-Pathophysiology] ranging from C0 to C6 with ascending severity. [4]
This observational study pointed out that the prevalence of the coexistence of hemorrhoidal disease with chronic venous disease is not just a mere coincidence, as the presence of CVD increased with the severity of the hemorrhoidal disease. The percentage of patients who had CVD was 43.1%,54%,54.8%, and 58.2% with hemorrhoid grades of I, II, III, and IV, respectively and thus showing the direct correlation between hemorrhoidal disease and chronic venous disease. [4]
CHORUS Study: Results of Sub-group Analysis of Indian Data
The Indian study, which was one of the subsets of the CHORUS study, concentrated on 2511 eligible patients, with a mean age of 43.3±12.2 years and a male predominance of 63.8% and the results of the study have been briefly summarized as below:
95.7% of patients had a hemorrhoidal illness that was confirmed by a doctor (grade I: 26.5%, grade II: 46.8%, grade III: 21.7%, and grade IV: 5%).

66.7% (1649) of patients who sought help for gastrointestinal issues reported constipation.

The hemorrhoidal disease was largely accompanied by signs and symptoms of bleeding, swelling, prolapse, and fecal incontinence.

The occurrence of hemorrhoidal disease was highly linked with the presence of CVD, and around one-third of patients (37.5%) reported having both conditions at the same time.

Edema in 13.2% of patients, venous leg symptoms in 25.3%, varicose veins in 18.98%, and telangiectasia in 13.0% of patients were the most prevalent venous issues identified.

Almost 70.4% of patients who were seen concomitantly with CVD had recurrent hemorrhoidal disease.

24% of the patients were active smokers, 17.7 % of women used birth control pills, 4.9% received hormone replacement treatment (HRT), and also 622 of the women [75.21%] had given birth.

In 95.7% of patients, venoactive medications were prescribed as a therapy for hemorrhoidal illness. With regard to them, MPFF (particularly Daflon 500 mg/1000 mg) was the most widely applied therapy and accounted for 86.2% of the venoactive drugs employed. In addition, doctors recommended a fiber-rich diet in 85.8% of patients, topical cream in 60.6%, and painkillers in 28.8% of cases.
The most frequent symptoms experienced by patients with hemorrhoidal illness in this Indian sub-group analysis were discomfort, anal swelling, and itching. These symptoms were followed by bleeding from the anus. Hemorrhoids were confirmed to exist in conjunction with constipation. Moreover, one-third of patients with anal issues had CVD, and 93.7% of them had a hemorrhoidal disease that was confirmed by doctors.
In CHORUS, a statistically significant relationship between the incidence of hemorrhoidal disease and CVD has also been found, and the relationship holds true regardless of the severity of the CVD in both the Indian and global analyses. Thus, it is inferred that people who have hemorrhoidal disease have a high chance of getting CVD. In order to enable early detection and treatment of CVD, they should be periodically evaluated. [5]
Wide Clinical Acceptance of the Role of Micronized Purified Flavonoid Fraction (MPFF) in Hemorrhoidal Illness
The most frequently prescribed treatments for hemorrhoidal illness in CHORUS were venoactive medications and dietary fiber. Evidence suggests that the oral flavonoid MPFF minimizes the probability of relapse and offers immediate and noticeable relief from acute symptoms of hemorrhoidal illness. [6] For the treatment of hemorrhoidal illness, MPFF is recommended by several international scientific authorities, including the American Society of Colon and Rectal Surgeons (ASCRS), the American Gastroenterological Association (AGA), and the French Society of Coloproctology. [5]
There are international studies that prove MPPF can be used in Chronic venous insufficiency [CVI] patients. For individuals with CVI and venous ulcers, MPFF is a well-proven and well-tolerated therapy option. Edema and the symptoms of CVI are advised for first-line treatment with MPFF in patients at any stage of the illness. When surgery is not a viable option, MPFF may be utilized as an alternate treatment in more advanced disease stages, along with sclerotherapy, surgery, and/or compression therapy. In addition to compression therapy and local treatment, MPFF looks to be a cost-effective way to speed up the healing of venous ulcers that are less than 10 cm in diameter. [7]
Take Home Messages
Results from the CHORUS study and other Asian studies have confirmed the link between hemorrhoidal illness and Chronic venous disease. While the CHORUS study concluded that the prevalence of CVD is higher with the higher grades of hemorrhoidal disease while the study conducted in Asia inferred higher concomitance of both conditions, i.e., hemorrhoids and CVD in patients. [1,4,5]
Regardless of the illness stage, MPFF was the most frequently prescribed venoactive medication for the treatment of hemorrhoidal disease. In order to better understand the condition and improve treatment, it may be crucial to look for symptoms of CVD in patients with hemorrhoids during routine clinical practice. [1]
This World Piles Day, Let's Vouch To Strike the Core of Hemorrhoidal Disease. To get more information about Piles/ Hemorrhoids, from Diagnosis to Management, click on the link below.
https://medicaldialogues.in/world-piles-day
References
[1] Ortega MA, Fraile-Martínez O, García-Montero C, Álvarez-Mon MA, Chaowen C, Ruiz-Grande F, Pekarek L, Monserrat J, Asúnsolo A, García-Honduvilla N, Álvarez-Mon M, Bujan J. Understanding Chronic Venous Disease: A Critical Overview of Its Pathophysiology and Medical Management. J Clin Med. 2021 Jul 22;10(15):3239. doi: 10.3390/jcm10153239. PMID: 34362022; PMCID: PMC8348673.
[2] Lohsiriwat V. Hemorrhoids: from basic pathophysiology to clinical management. World J Gastroenterol. 2012 May 7;18(17):2009-17. doi: 10.3748/wjg.v18.i17.2009. PMID: 22563187; PMCID: PMC3342598..
[3] Jameson JL, Fauci AS, Kasper DL, Hauser SL, Longo DL, Loscalzo J, eds. Harrison's Principles of Internal Medicine. 21th ed. McGraw Hill; 2022.
[4] Davies A.H. The Seriousness of Chronic Venous Disease: A Review of Real-World Evidence. Adv. Ther. 2019;36:5–12. doi: 10.1007/s12325-019-0881-7.
[5]Sheikh, P., Mital, K., Maheshwari, U. et al. Clinical Presentation of Hemorrhoids and its Correlation with Chronic Venous Disease in India: a Subgroup Analysis of the International CHORUS Survey. Indian J Surg 83, 513–521 (2021). https://doi.org/10.1007/s12262-020-02426-1
[6] Sheikh P, Lohsiriwat V, Shelygin Y. Micronized Purified Flavonoid Fraction in Hemorrhoid Disease: A Systematic Review and Meta-Analysis. Adv Ther. 2020 Jun;37(6):2792-2812. doi: 10.1007/s12325-020-01353-7. Epub 2020 May 12. PMID: 32399811; PMCID: PMC7467450..
[7] Li KX, Diendéré G, Galanaud JP, Mahjoub N, Kahn SR. Micronized purified flavonoid fraction for the treatment of chronic venous insufficiency, with a focus on postthrombotic syndrome: A narrative review. Res Pract Thromb Haemost. 2021 May 8;5(4):e12527. doi: 10.1002/rth2.12527. PMID: 34027293; PMCID: PMC8128666. MBBS, MS (Surgery), DNB
Dr. Sameer Rege is a well known general surgeon, specialized in gastrointestinal and endocrine surgeries and associated with the prestigious IAGES, Hernia Society of India and others. With multiple national and international publications in his name, he has also been awarded several prestigious fellowships such as FMAS, FIAGES, IAGES Travelling Fellowship and Young Surgeon Achievement Award.