Sushma Swaraj aids a newborn with heart ailment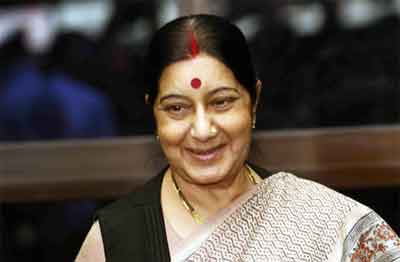 New Delhi: The All India Institute of Medical Sciences (AIIMS) came to rescue a newborn with heart ailment after help offered by External Affairs Minister Sushma Swaraj.
Parents of a newborn, who has a serious heart ailment, have a glimmer of hope after Swaraj ensured medical treatment at a premier hospital in New Delhi.
Few days ago, Devesh Sharma's wife Vandana gave the birth to a child in central city of Bhopal but the infant was diagnosed with rare heart ailment, Transposition of Greater Arteries (TGA).
"Veins of the infant are entangled. Pure and impure blood is getting mixed. In medical term it is called TGA, transposition of greater arteries," Doctor Pankaj Lal said.
Sharma decided to seek Prime Minister Narendra Modi's help after doctors told that they did not have facilities in the city to conduct operation on the child.
"I had tweeted only to Prime Minister (Narendra Modi) and Health Minister (Jagat Prakash Nadda) but I am grateful to Sushma Swaraj because she responded to it," Sharma said.
After his tweet, Swaraj sought Sharma's phone number. Later, the minister's staff contacted Sharma and sent medical reports of the child to All Indian Institute of Medical Sciences (AIIMS).
"We can organise the baby's surgery in AIIMS Delhi. The family has to decide," Swaraj said in another tweet.
The government has shifted the child to New Delhi through air ambulance for further treatment.
Swaraj is known to reach out to Indians in distress across the world through social media.
Read also: Sushma Swaraj offers help on Twitter to baby born with heart disease