Swami Gopal Das continues hunger strike for Ganga at AIIMS Rishikesh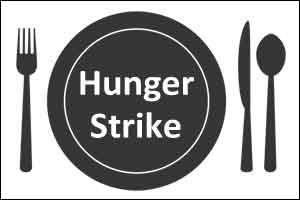 New Delhi: Swami Gopal Das, who sat on hunger strike at the Matrisadan ashram in Kankhal-Haridwar on Friday for the Ganga after the death of Prof G D Agrawal, continued his fast at the AIIMS, Rishikesh on Sunday.
The young saint, in his late 30s, refused to take treatment at the hospital, saying he has no health problem and is willing to continue his hunger strike for clean Ganga to take forward the mission initiated by Prof Agrawal (Swami Gyan Swaroop Sanand), a Matrisadan ashram spokesman said.
The Swami, who was reportedly observing fast in support of Agrawal's stir for many days in Badrinath Dham and Rishikesh, reached Matrisadan on Friday to sit on the fast in place of late Prof Agrawal.
He was rushed to the hospital on Friday late night by district administration authorities in the apprehension of health issues as they learnt about his prolonged fast, the spokesman told UNI over the telephone.
IIT professor-turned-sanyaasi, Agrawal passed away at the AIIMS Rishikesh on Thursday on the 112th day of his protracted hunger strike demanding enactment of the Ganga Protection and Management Bill and halting works on hydro-power projects along the Alaknanda and Mandakini rivers, the tributaries of the holy river.