Tamil Nadu Doctors Pay Hike: Govt promises to meet demands in 6 weeks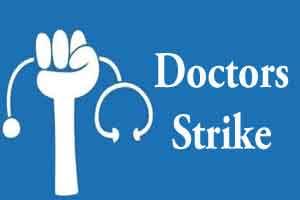 Chennai: Showing their resentment to the careless approach of the state government in enhancing payscale and doctors' deployment strength at the state run hospitals, medicos under the banner of Tamil Nadu Government Service and Post-Graduate Doctors Association observed a one day token strike.
The protest was launched by 6 government doctors last week who began a fast unto-death demanding implementation of their long-standing four-point charter of demands; with other doctors extending support to them. Among six, the health condition of four deteriorated and they were hospitalised.
According to media reports, around 600 doctors assembled at Madras Medical College on August 27th in support of the protesting doctors.
These demands include implementation of Dynamic Assured Career Progression (DACP)  under Government Order 354 which would ensure pay hike for the doctors after 4, 9 and 13 years of service, upscaling of the number of doctors in government hospitals, 50 per cent seat allocation for service quota candidates and counselling for posting and relocation of service PG medicos.
As a result of the strike, both outpatient and inpatient services as well surgeries were suspended in all government hospitals. However, the protest was soon called off after the state assured to meet the demands of the doctors within six weeks.
Read Also: NMC Bill Protest: MARD calls off strike on humanitarian grounds
Taking cognizance of the matter, Dr Senthil Raj, Director, Tamil Nadu AIDS Control Society, has been appointed by the concerned authorities to review the doctors' demands and has been directed to inform the government of the developments once in two weeks, reports Deccan Chronicle.
TNIE reports that Health Minister C Vijaya Baskar assured the doctors that their demands will be met within six weeks. After the talks, the minister said pay hike as per GO 354 will be implemented and also doctors strength depending on the patient-load will be increased in hospitals.
The Health Minister has also announced that a favourable decision would soon be taken after holding discussions with the Chief Minister.
Read Also: Doctors Strike against NMC Bill: Union Health Minister appeals for Withdrawal