Thrashed by relatives, Lathi Charge by Police: Resident Doctors call it a strike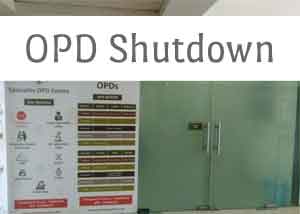 Dhanbad:
Junior doctors attached to Patliputra Medical College and Hospital (PMCH) have reportedly gone on strike protesting against lathi charge that was conducted on them on Thursday. The incident happened while they were counter-acting against the relatives of the patient who lashed out at a fellow junior doctor, alleging medical negligence.
The contingent of doctors went to Deputy Development Commissioner of Dhanbad, Kuldip Dwivedi and asked for necessary action against the cops involved in the lathi-charge.
The Telegraph
reports about the incident that occurred on Thursday morning when the relatives of the patient, Janvi Kumari aged 4, who died while being treated for meningoencephalitis at the hospital, allegedly thrashed junior resident Dr Upendra Oraon blaming him of medical negligence.
After noticing the attack on a fellow resident, the other junior doctors launched a counter-attack on the relatives of the deceased patient.
A team of Saraidhela police led by OC Niranjan Tiwari reached the hospital and managed to hold back the parties from attacking each other. However, the situation didn't calm down, with heated hight ensuing between the police and the doctors, after which the police held lathi charge as the defense.
Finally, the senior officials of PMCH, including principal Kameshwar Biswas and superintendent Siddharth Sanyal, and DSP (law and order) Mukesh Kumar took the matter into their hands and brought the situation under control and calmed down the furious parties.
While talking to the daily, Sanyal claimed that the chances of Janvi's survival were minimal. "Some anti-social elements accompanying the family members attacked the doctor attending to her despite being informed that her survival chances were slim."
He pointed out that the junior doctors have not given any written statement about the strike. "But they have informed us verbally. OPD services have been affected, but the emergency services remain normal", he added.
As a result of the protest, the Out-patient Department (OPD) services of the hospital has been affected.