TN Congress attacks Budget, asks where is promised AIIMS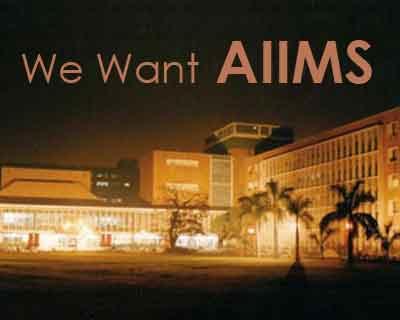 Chennai: Hitting at the General Budget which has received mixed reactions across the nation, the Congress said they were promised that AIIMS hospital will be constructed in the state but they were neglected and in turn Gujarat and Jharkhand were selected.
"Two years back, there was an announcement that the AIIMS hospital will be constructed in Tamil Nadu but now they have selected Gujarat and Jharkhand. Tamil Nadu is neglected. Nothing has been announced in this budget in favour of the people. They are being cheated, disappointed," senior Congress leader Su. Thirunavukkarasar told ANI.
"This budget is anti-farmer, anti-poor, anti-dalit and anti- youngsters. There is a serious drought problem in the country. For example in Tamil Nadu nearly 2000 farmers have committed suicide. Nothing is there for the farmers in this budget in order to give remedies to the farmers, to help them. Also, crores of youngsters across the country are unemployed," he said.
He added that throughout the country, crores of youngsters are looking for employment opportunities but nothing is being provided and no scheme is there to create employment opportunities.
"In the Mahatma Gandhi Rural Employment Guarantee Act last year they allotted roughly Rs. 47,600 crores and this year they have allotted only Rs. 48, 000 crores which shows only 400 crores increase," he said.
He further said that Congress vice-president Rahul Gandhi has already requested the Central government to increase and salary also from Rs. 150 to Rs. 300 for the daily-wage labourers.
He asserted that there was no need of Railway Budget to be included in the General Budget.
All India Anna Dravida Munnetra Kazhagam (AIADMK) general secretary V. K. Sasikala on Wednesday said though the Union Budget has welcoming features, the shortcomings should be looked into and addressed and the country should be taken on the growth path.
Sasikala expressed regret that though setting up of AIIMS in Tamil Nadu had been announced in the previous budget, work was yet to start. She demanded that funds be allocated and work start immediately.
The AIADMK chief also pointed out that no new railway projects and no new trains had been announced for Tamilnadu in the rail Budget merged with the general Budget.
The Budget was presented in Parliament on Wednesday. This year, for the first time, The Rail Budget was merged and presented with the Union Budget.
Finance Minister Arun Jaitley presented the General Budget proposals for 2017-18 and said the major thrust of his fourth budget is on stimulating growth, relief to middle class, affordable housing, curbing black money, promoting digital economy, transparency of political funding and simplification of tax administration.
The Budget has evoked diverse reactions from nation across with most of the BJP-opposing parties criticising it for the absence of any breakthrough schemes facilitating compensation for the cash shortage in the country due to demonetisation.