Unfortunate: Dentist Killed as lorry hit her two-wheeler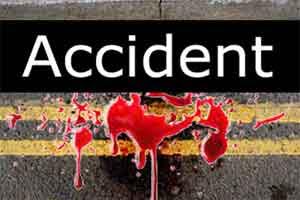 Puducherry: The A-24-year-old Dental doctor was killed when the two-wheeler she was riding was hit by a lorry which came from behind, near Indira Gandhi square here on Friday evening.
According to police on Saturday, Nandini a resident of Kurunji Nagar was returning home after work from her clinic on the Bussy street. When her two wheeler reached near Indira Gandhi square, a lorry which came from behind hit her bike.
Nandini, who was thrown off from the bike was trapped under the rear wheel of the lorry and sustained serious injuries. She was rushed to the Jipmer hospital here where she was declared brought dead.
In another accident at Villianur last evening, a 32-year-old woman Azith Mehbooba was killed when her two-wheeler was hit by a private bus from behind. She was trapped under the rear wheel of the bus and it ran over her head killing her on the spot.
In yet another accident last evening, Amma Thennavan (24) an employee of TVS company, Nettapakkam was killed.
Police said when Thennavan was returning after work on his motorcycle, a bus which came from behind hit his vehicle on the Thirubhuvanai main road.
The seriously injured Thennavan was admitted to a nearby private medical college hospital and later shifted to Jipmer. However, he succumbed to his injuries in the institute this noon, police added.