Union Cabinet extends tenure of Homeopathy Council Board of Governors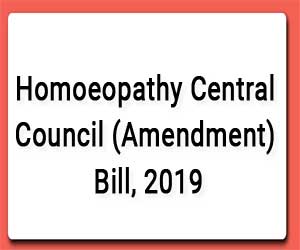 New Delhi: The Union Cabinet, chaired by the Prime Minister Shri Narendra Modi, has approved the draft Homoeopathy Central Council (Amendment) Bill, 2019.
The Bill seeks to extend the period for reconstitution of the Central Council from existing period of one year to two years so that the tenure of the Board of Governors may be extended for a further period of one year with effect from 17th May 2019.
This will help the Central Council of Homoeopathy in exercising the powers and performing the functions of the Council.
The Bill will replace the Homoeopathy central council (Amendment) Ordinance, 2019 and extend the tenure of Government for another one year.
The affairs of the Central Homoeopathy Council have been entrusted to a Board of Governors consisting of eminent and qualified Homoeopathy Doctors and eminent administrators. Till such time the council is reconstituted. The tenure has been extended since the council could not be reconstituted within one year due to the non-updation of state registers of Homoeopathy and coincidence of general elections.
Read Also:25 Homeopathy practitioners under FDA lens for storing vast amount of allopathic medicines
Last year in May 2018, the Union Cabinet had approved the ordinance to replace the Central Council of Homeopathy with a National Commission of Homeopathy in order to install more transparency and accountability in the system of homeopathy in the country.
The Commission, similar to the National Medical Commission, comprised of seven persons-eminent homeopathy practitioners and administrators, and were be appointed by the government. Their initial tenure was fixed to be one year
The move came in response to the growing allegations of corruption against office bearers of the CCH.