Chandigarh : Union Minister JP Nadda inaugurates series of facilities at PGIMER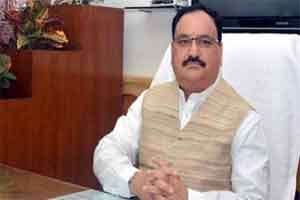 On the occasion of first convocation ceremony of National Institute of Nursing Education at PGIMER, Union Health minister Shri JP Nadda have a head start to a series of facilities.
Along with SLEEP LAB  in the Department of ENT for the diagnosis and surgical treatment of Obstructive Sleep Apnea (OSA) the minister was found informing about the plan of Amrit outlets and Jan Aushadhi stores. The various new projects at the organisation include


SLEEP LAB-this Lab is the first to be started in ENT Department of North India. This Lab is designed to evaluate, diagnose, treat and help patients to manage OSA. The sleep study is a painless process conducted on the patient at night. In the next day he will received a complete sleep report with diagnoses of sleep related problems.


Advanced Eye Center of PGI has been equipped with the femtosecond laser technology today which would ensure fast, accurate and predictable cataract surgery. This procedure commonly called as "Blade-less Cataract Procedure"/"Robotic Cataract Procedure". Femtosecond Cataract Surgery helps to reduce the surgical complications and enhance the post-operative outcome in the complicated and challenging cataract cases. The minister specifically told that this facility is first of its kind in India which has been installed at the cost of Rs.7 crores.


Health Minister also dedicated Kitten MRI/Mock MRI Scanner at PGI which is specifically designed to make MRI scanning safer and more child friendly. In this facility children will be exposed to the environment of MRI scanning before they are actually taking first scanning. This facility has been acquired at approximate cost of Rs.13 crores.


One of the major breakthrough achieved by the PGI is in the form of Telemedicine facility with three remote locations, namely Community Health Centre, Pooh in District Kinnour of Himachal Pradesh; Pampa Hospital, Sabrimala in Kerala and Sheshnag base camp on way to Amarnath Shrine. Minister told that these three telemedicine nodes in remote areas have been established by Ministry of Health & Family Welfare in collaboration with Department of Space. These centres which have been connected with Telemedicine node at PGI to provide remote health care over telemedicine platform. Health Minister reiterated the resolve of his Government to strengthen Tertiary Health Care in all its premium institutions by inducting State-of-Art technology, training and capacity building of human resource and providing affordable and convenient tertiary health care through various steps.