UP government promoting corruption at BRD Medical College: SP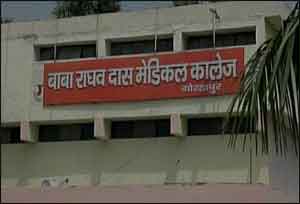 Gorakhpur: The Samajwadi Party accused the Uttar Pradesh government of encouraging corrupt practices at Gorakhpur's state-run Baba Raghav Das Medical College, where nearly 60 children died allegedly due to disruption in supply of liquid oxygen last year.
Read Also
: 30 children die in Gorakhpur BRD hospital in last 48 hours
"Chief Minister Yogi Adityanath says his government has zero tolerance for corruption. But in his home town, BRD Medical College is involved in a scam of Rs 5 lakh per month in purchase of liquid oxygen," SP district president Prahlad Yadav said.
"During previous governments, the medical college used to purchase liquid oxygen at the rate of Rs 16.50 per litre. After August 10 last year, the hospital started purchasing liquid oxygen directly from a company in Rajasthan at the rate of Rs 19.39 per litre. The consumption of liquid oxygen at the college is from 1.20 lakh to 1.50 lakh litre liquid oxygen gas per month. During peak months like August, the consumption is even more," Yadav said, alleging a scam of around Rs 5 lakh per month.
Asked about the source of his information, Yadav did not offer any.
"We have our sources and we know it. If government wants to say something, they should come out with proof to deny the allegations made by us."
More than 60 children, mostly infants, died at the hospital within a week in August 2017. There were allegations that the deaths occurred due to disruption in oxygen supply over unpaid bills to the vendor. The state government had vehemently denied that a shortage of oxygen led to the deaths.
The district president also said that the state government was not making hospital data public and maintaining secrecy. During the previous Akhilesh Yadav government, directions were given to the hospital to release admission, death and recovery data by 4 pm every day.
When BJP Mahanagar president Rahul Srivastav was asked about the issue, he said, "All allegations made by the SP leader are baseless. The rates (of liquid oxygen) have increased due to GST.