UP govt prepared to tackle dengue menace: Health minister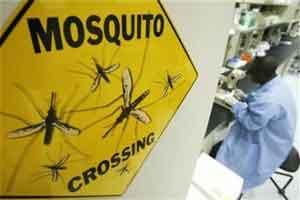 Lucknow: The Uttar Pradesh government said its endeavor is to ensure that the spread of dengue and other mosquito-borne diseases in the state is minimised and it is ready to tackle any situation.
"In 2015, as many as 3,101 dengue cases were reported, in which 10 persons died. In 2016, there were 15,033 cases of dengue being reported and there were 42 deaths. This year (till July 11), there have been three deaths," state health minister Sidhartha Nath Singh said in the Assembly.
Replying to a query by an Opposition MLA during Zero Hour, he said a high-power committee under the chief secretary has been formed to monitor, spread awareness and prevent the spread of dengue in the state.
At the district level the committee will be under the DM.
"This year, we have released Rs 4.2 crore more as compared to last year to tackle dengue. We have also got Rs 88 lakh from the Centre to purchase machines needed for dengue control," Singh said.
"A number of response teams have been set up. In every district hospital, provision of 10 beds for dengue patients have been made. In community health centres, provision of five beds have been made. Apart from this, a dengue help desk has also been started," he said.
The minister also informed that as against the target of 88 lakh, more than 8 crore children in 38 districts of the state have been vaccinated against Japanese Encephalitis.
The issue of combating dengue and other mosquito-borne diseases also figured in the sitting of the Legislative Council.
In a written reply, Singh said, "From March 16 to April 16, as many as 76 cases of Acute Encephalitis Syndrome (AES) were reported in which 12 persons died. The government, in order to give specialised treatment to patients at the district level itself, has arranged 12-bed and ventilator- equipped PICU in Gorakhpur."
Paediatric ICUs have been set up in district hospitals of Kushinagar, Deoria, Maharajganj, Basti, Siddharthanagar, Sant Kabir Nagar, Bahraich and Lakimpur Kheri.
"As many as 104 encephalitis treatment centres have been set up for initial treatment of AES and Japanese encephalitis (JE) in Gorakhpur and Basti divisions," the health minister said.