UP govt to soon launch control centres to boost health infrastructure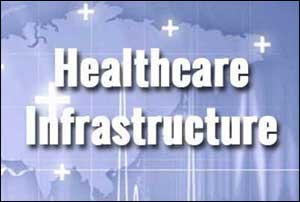 Lucknowi: Seeking to boost health system at the grass-roots level, the Uttar Pradesh government will soon launch a network of "24×7 control centres" across the state that will allow people to consult doctors through telephones.
State's health minister Siddharth Nath Singh said this late evening here, at a time when deaths of children in Gorakhpur and Farrukhabad hospitals have hogged headlines.
"When it comes to IMR (infant mortality rate), MMR (maternal mortality rate), we are perhaps one of the worst states.
"We have a shortage of 7,500 doctors and about 19,000 paramedical staff. But, we are committed to improve the situation," he said while addressing the valedictory session at 10th Medical Technology Conference.
At the event, hosted by the Confederation of Indian Industries (CII) and also attended by representatives from leading medical technology firms, the minister also invited them to invest in the state, saying "a red carpet and not red tapism await them in UP".
"So, we have this shortage of doctors and paramedical staff, and nothing but technology can change that scenario. In next two months, we will come out with a project, whereby command and control centres, working 24×7, will be set up at the five clusters spread across the state.
He said villagers in remote areas would be able to connect to these control centres through telephone and doctors receiving the calls would be able to prescribe simple medicines.
"If the ailment does not go away, doctors will prescribe antibiotics which would be made available to them at primary healthcare centres (PHCs).
"Even then if the problem doesn't go away, the patient will be shifted to the district hospital for further treatment," he added.
Singh said there are 3,700 PHCs, 900 community healthcare centres and over 175 district hospitals, and so "I am banking on technology to deliver public health".
Later asked to elaborate on these proposed centres, he said, "These would be like 24×7 call centres catering to medical cases. Through this set up, we would be able to manage with less doctors and patient won't have to travel long distance, if their problems can be addressed locally." The Uttar Pradesh health minister while inviting investors, asserted that he would work to "improve the level of transparency in the system" to that existing in states like Tamil Nadu, Kerala or Maharashtra.
He said while he was keen on public-private-partnership model, but given that a large segment of people are still below poverty line, "we cannot leave health sector to private firms, not that I do not trust the private sector".
"As government our aim is service, and for private sector the aim is profit, And, if we can have the right combination of service and profit, it is a tick box.
"We are an exciting state and we will work best as a facilitator. So, we invite you to join us in helping improve the situation in the state," Singh said.