UP Hospital to fine Rs 100 on doctors found playing games on their phones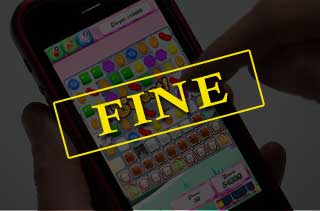 Meerut: Fiddling with your phone while on duty?? Busy playing games?? Distracted by WhatsApp?? Be ready to shell out a fine of Rs 100
This is one of the novel measures being introduced in UP hospital, to make sure that doctors concentrate on providing quality care to patients and not waste precious time playing games on their phone. The fine has been introduced for the on-duty doctors of  Meerut's  PL Sharma district hospital. The instructions of superintendent-in-chief, Dr PK Bansal came after he his inspection at the hospital, revealed staff being busy with their phones.
"I conducted an inspection of the hospital on Thursday and found that some of the officials were busy playing games on their cellphone during duty hours. Against this backdrop, I have decided that if any doctor or hospital staff is found playing games on their cellphone, a fine of Rs 100 will be collected from them, which will be deposited in the treasury," he told TOI
"Use of cellphones during work distracts doctors, and their focus on patient care gets diverted. Hence, this rule has been passed," the superintendent-in-chief added.
The superintendent was also seen issuing other instructions relating to cleanliness at the hospital, as well as the conduct of doctors in particular.
"I have also strictly asked the hospital to ensure that they do not leave their duty before time. Also, they have been told to improve their behavior towards the patients, as I often get complaints related to their bad behavior," said Dr. Bansal.
In the recent past, UP government has taken series of measures to ensure that doctors working at government hospitals main decorum and discipline.  Medical Dialogues team had earlier reported that Mahant Yogi Adityanath had banned wearing of jeans and T-shirts for the state government hospitals during duty hours,
Read more at Medical Dialogues: Doctors Alert: No more Jeans and T-shirts in UP Hospitals