UP: Man's severed foot kept between his legs in Sultanpur hospital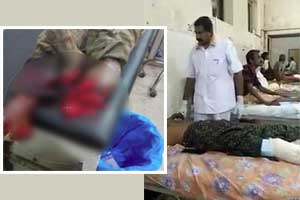 Sultanpur: In another case of medical apathy, severed foot of a man was kept between his legs at a hospital in Uttar Pradesh's Sultanpur.
Atul Pandey 48, lost a foot when a train ran over him. The locals rushed Pandey to a nearby district hospital. During the course of treatment, the severed foot was kept between his legs. It was only removed by the doctors when people started clicking pictures of it.
Considering Pandey's deteriorating condition, doctors later referred him to Lucknow.
However, Chief Medical Superintendent of the hospital Yogendra Yati denied any medical negligence and said Pandey was given the best treatment.