KIMS Kurnool doctors successfully perform retrograde intrarenal surgery to save patient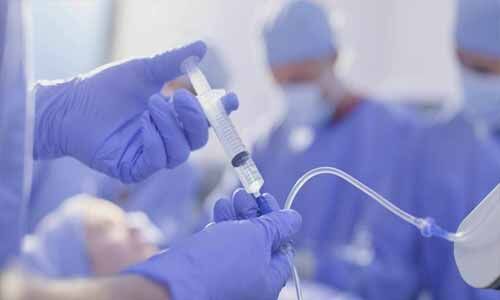 Kurnool, 24th June 2020: Doctors at KIMS Kurnool Hospital saved life of a 24-year-old young male patient by performing retrograde intrarenal surgery (RIRS). The case of this young patient is complicated as well as rare as he had 2 stones in his ectopic kidney. An ectopic kidney is a congenital defect in which a kidney is located in an abnormal position.
Ectopic Kidney is a rare condition which is seen in 1 in 3000 people. Having Kidney stones in ectopic kidneys is much more complicated and needs high expertise medical team.

The patient was brought to KIMS Kurnool with complaints of pain in abdomen on and off in the last 6 months. Upon investigation, it was found that he has a rare condition called Ectopic Kidney and 2 stones in the left kidney, sized 18mm and 4 mm each. Right kidney normal size and echotexture. Patient is suffering for the last one year visiting many hospitals without treatment because of the complexity of the surgery.
Speaking about the case, Dr. Manoj Kumar Y, Consultant Urologist, KIMS Kurnool Hospitals, said, "The case of Kidney stones has become more common in past decade and have been steadily increasing. However, this case got more complicated due the different location of his kidney. As he is suffering from past one year, he needed immediate attention and removal. For cases with a stone of 18mm, we use a procedure called PCNL, where we puncture the Kidney for the removal of stone. However, in this case it is difficult to puncture the kidney as there are intestines and other internal organs around the kidney. We have taken up a procedure called RIRS (Retrograde intrarenal surgery). In this procedure, the surgery is performed within the kidney using a viewing tube called a fiberoptic flexible endoscope and laser to remove the stone. This is an endoscopic procedure which is a quick fix in place of open surgery. This endoscopic surgery also lessens the pain, hospital stay and helps in speedy recovery without any cut on body."
RIRS was done on this patient within 15 days of reaching KIMS Kurnool relieving him from pain and bringing him back to normal life. Both the stones are completely cleared, and patient was discharged on the second day of the surgery. The Urology team at KIMS Kurnool with experienced RIRS surgeon Dr. Manoj Kumar, are performing many complex kidney stones and stones in the pediatric patients successfully.
"RIRS procedure requires necessary high-end equipment like holmium laser and flexible scope which is available with us. Procedure needs high expertise. Availability of best anesthesia team like Dr Nachiketha and Dr Shruthi also made our job successful. Cases like these are taken to cities like Hyderabad, but with the availability of infrastructure and expertise, we are doing this procedure regularly and we are handling many complicated cases. We are happy to be the best in Kurnool to successfully perform RIRS," he added.
Source : Press release