Infertile men have higher PSA compared to fertile ones, says study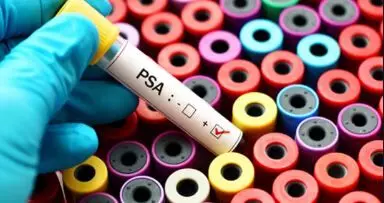 Infertile men are at greater risk for oncological and nononcological chronic disease than fertile individuals. Researchers have found in a new study that Infertile men have higher PSA values than fertile individuals.
The study, published recently in the journal of European Urology, further reports that of all, almost one out of three primary infertile men younger than 40 yr has a first total PSA value of >1 ng/ml.
PSA level in semen has been shown to correlate with sperm motility, suggesting that PSA level/activity can affect fertility. Indeed, throughout the last decades, several authors have suggested the concept that infertile men are "less healthy" than fertile men since they typically carry a wide range of co-morbid conditions.
According to the World Health Organization (WHO) criteria, infertility was defined as not conceiving a pregnancy after at least 12 months of unprotected intercourses regardless of whether or not a pregnancy occurs ultimately.
The current European Association of Urology (EAU) guidelines report that a first prostate-specific antigen (PSA) assessment should be performed at 40–45 yr and that men with PSA >1 ng/ml at 40 yr of age are at an increased risk of prostate cancer death several decades later. Previous studies have also elaborated that infertile men are at greater risk for oncological and non-oncological chronic disease than fertile individuals. As for oncological disorders, men with abnormal semen analyses had been associated with a greater incidence of testicular cancer, colorectal cancer, and melanoma than their counterparts from the general population.
Keeping this in mind, Luca Boeri et al sought to undertake a study to investigate prostate-specific antigen (PSA) values in men presenting for primary couple's infertility compared with a cohort of fertile individuals.
The study design was a cross-sectional study. Data from 956 (90%) infertile men and 102 (9.6%) fertile participants were analyzed. Circulating hormones, total PSA, and semen parameters were investigated in every man.
Participants underwent at least two consecutive semen analyses ; for the specific purposes of this analysis, we considered semen volume, sperm concentration, progressive sperm motility, and morphology.
Results revealed the following facts.
Overall, PSA >1 ng/ml was found in 318 (30%) men.
Serum PSA was higher (p = 0.02), while serum testosterone (p < 0.01) was lower in infertile than infertile men.
In participants younger than 40 yr, 176 (27%) men had PSA >1 ng/ml; of them, a greater proportion were infertile (28% infertile vs 17% fertile, p = 0.03).
A multivariable linear regression analysis, infertile status (coefficient 0.21; 95% confidence interval 0.02–0.39) was associated with higher PSA values, after adjusting for age and serum testosterone level.
The research team highlighted that In this study, it was observed that
(1)infertile men have higher prostate-specific antigen(PSA) values than fertile individuals and
(2) a greater proportion of infertile men younger than 40 yr had total PSA >1 ng/ml at the first assessment.
"Thereof, these analyses could be the base for every future consideration of PSA testing during the diagnostic work-up of infertile men because of the potential implications for personalized PCa prevention strategies." said the team.
For the full article click on the link: https://doi.org/10.1016/j.eururo.2020.08.001
Primary source: European Urology
Source : European Urology