Vacuum Assisted Breast Biopsy introduced to treat breast cancer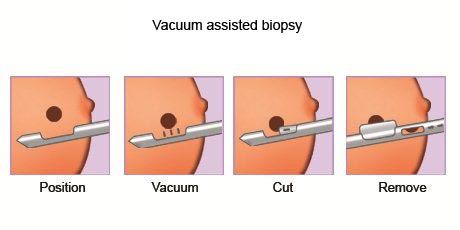 In order to ensure an efficient method to detect
breast cancer
, HealthCare Global Enterprises (HCG) has introduced Vacuum Assisted Breast Biopsy (VABB) in Bengaluru. This new technology will also ensure scar-free detection of a breast cancer tumor, a claimed by a report in the
Express Healthcare
.
What makes this new technique truly special is its ability to diagnose even a small lump (of 3-5 mm) in the breast, which in turn helps in easy and timely diagnosis of the tumor. A further investigation can be done at an early stage to discover whether it's a cancerous tumor or not.
This concurrently tackles the problem of lack of awareness and even low diagnosis of breast cancer in India. As per IARC (WHO) breast cancer constituted 22.2 per cent of cancer in 2008 which increased to 27 per cent in 2012. Of the 300,000 cancer cases treated/managed by oncologists in India, more than 10 per cent are breast cancers out of which one third are new cases, as further confirmed by the Express Healthcare report.
With increasing awareness at this stage in India, women are in search of state of the art hospitals and new techniques which provide them comfort, and also the assured factor of an accurate diagnosis, which in most cases proves to be fatal due to last stage diagnosis. More than 60 per cent of patients present at the locally advanced stages of breast cancer and the mortality associated with it is as high as 35 per cent.
The VABB technology helps in a complete biopsy under the mammographic, stereotactic and ultrasound guidance. By giving only a local anesthesia, the whole procedure can be completed in a sitting of 45 minutes.
The procedure involves a single needle insertion with vacuum pressure under the guidance of chosen imaging modality. Without withdrawing and reinserting the needle, multiple samples can be collected, which are larger in size than a conventional needle biopsy procedure and larger samples eventually increase the accuracy of the diagnosis and better treatment protocols, as reported further by Express Healthworld.
Dr Sudhakar, an integral part the Radiology Department at the HCG Hospital, Bengaluru, shares his views on this new platform acquired by his institute, "As we have digital mammography and advanced ultrasound scan, small lesions are possible to be detected well before it actually presents. It was difficult to access to such small lesion through traditional core biopsy, however with our new vacuum core biopsy system, makes it easy to extract large volume of tissue, which also helps us diagnose hormone receptor and conduct genomic studies. We can excise fibroadenomas in young age with symptoms or family history. This day-care procedure is safe, cost effective and scarless."