Walk in Interview: ESIC Hospital Bangalore releases 23 Vacancies for Senior Resident Post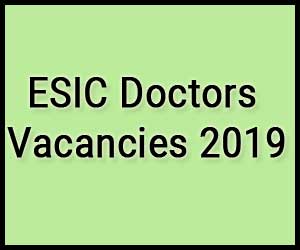 Bangalore- The Employees' State Insurance Corporation, (ESIC) Model Hospital Bangalore has released 23 vacancies for Senior Residents on Contractual Basis. The selection will be done through Walk-in-Interview.
ESI Model Hospital is a 500 bedded Hospital with OPD attendance of more than 1000/day and a bed occupancy of almost 100% throughout the year.
Total no.of vacancies- 23
The vacancies are in the departments of Anaesthesia, general medicine, Ophthalmology, orthopaedics, ENT, paediatric, Obstetrics & Gynaecology, radiology, general Surgery and dentistry.
For these departments -- anaesthesia, general medicine, ophthalmology, Orthopaedics, ENT; the interview will be held on 25-6-2019
For these departments-- paediatrics, obstetrics & gynaecology, Radiology, General Surgery, Dentistry; the interview will be held on 26-6-2019
The reporting time for all the interviews is 9.30 AM to 11.00 AM
For more details about Qualification, Recruitment and much more, click on the given link:
https://medicaljob.in/jobs.php?post_type=&job_tags=esic+bangalore+vacancy&location=&job_sector=all
AGE- The age shall not exceed 37 years as on date of walk-in- interview. The age limit is relaxable by 3  years for OBC  candidates and 10  years relaxation for  Ex-Servicemen (Age relaxation is  applicable as per  Govt.of India Rules)
PAY & ALLOWANCE- The Senior Residents will be paid in the pay band : (Level - 11) of Rs.67,700 plus other allowances as applicable under  Govt.of India Rules.
TERMS AND CONDITIONS


Rule of Reservation will be implemented as per Govt. of India instructions.


The appointment shall not confer any right or preference for regular appointment.


No claim for any service benefit like PF, Pension, Gratuity, Medical Allowance, Seniority, Promotion &I Leave will be admissible.


candidates must be registered with Karnataka Medical Council or MCI before joining the post.


No TA/DA will be admissible for attending interviews or joining duty"


ESI Corporation nay increases or decrease or cancel filling up of any post without assigning any reasons at the discretion of the Appointing Authority.


 the Senior Resident is a contract post for a period of .3 years under 3 years Senior Residency Scheme, appointed initially for one year and renewable for another 2 years subject to the satisfactory performance.


the application should be submitted in the prescribed format only at the time of interview. The applications found to be incomplete will be summarily rejected.


OBC candidates should ensure that they are in possession of valid OBC (in Central Government format) issued within the due date issued by the Authority Concerned.


The candidates claiming reservation/age relaxation on grounds of belonging to OBC should submit the Community Certificate in Annemarie "A" prescribed vide Govt of India, Department of Personnel and Training OM No 36036/2/2013-Estt(Res,), dated 30.05,2014 falling which the benefit of reservation/ relaxation will not be given or their application


The Dean has the discretion to increase/ decrease the number of vacancies depending upon an actual requirement/ Cancel this recruitment/ withdraw the offer of appointment issued after the Walk-in-interview.


The candidates are advised to bring their application and original certificates.


Candidates who have already worked as Senior Resident under 3 years Senior Residency Scheme are not eligible and those who have worked as Senior Residents under 1-year contract will be appointed only for 2 years or their service period will be deducted proportionately.


All candidates are directed  for interviews at 6th Floor, Dean Office ESIC Medical College, Rajajinagar, Bangalore-560 010


Candidates are requested to come and registered the time mentioned in the notification to avoid disqualification


Upon selection candidates as senior resident they have to deposit one month's Basic Pay + NPA i.e. Rs.85,10W-. refundable security deposit interest bearing) (Demand Draft issued by nationalised bank  Payable at Bangalore, drawn in favour of ESIC fund a/c no.1) however, this amount will be appropriated towards administrative cost in case, the candidate resigns/terminates his/her contract within one year of the commencement of the contract with or without prior notice and without one month's notice thereafter.


0n selection the candidates have to open an SB Account in State Bank of India at any Branch.


Dean will be the Controlling Authority for Senior Residents.