WB: Leading Private Hospitals on OPD Strike after Extortion and Violence at CMRI Hospital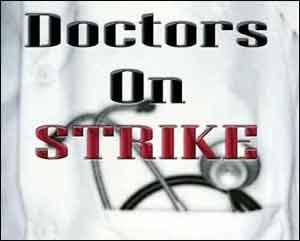 Kolkata: On the backdrop of a series of relentless violence incidents against doctors and other medical professionals and the alleged inaction by police and administration regarding the violence and extortion cases in various medical institutes,  leading hospital in West Bengal had shut their OPD doors to patients  today.
In a first of its kind pan private hospitals strike,  private practitioners and hospitals were seen doing a  complete cease work, suspending all non emergency activities. Doctors were showing complete solidarity with their colleagues of CMRI hospital who were left in an extortion-like situation, when a patient's kin refused to pay more than Rs 8,000 after being given a Rs-75,000 bill.  Threatening the hospital staff about money, the patient's relatives soon brought in goons, who abused and threatened doctors and administrative staff inside the hospital.
This bill was really conservative, considering the fact that the patient stayed at the hospital for 20 days and underwent a complicated surgery," a senior physician said. Frustrated over the said incident, the CMRI hospitals doctors decided not to admit any new patient. In addition to this, an FIR was registered against the patient's kin under various sections of extortion, cheating, and threat.
Doctors on Friday formed a body called the United Doctors' Voice of Bengal, which called for an OPD closure in all private hospitals and nursing homes and decided to block all the OPD services at hospital premises at least on Saturday.
In support of the CMRI hospital, the other private hospitals also came forward and decided to shut down their facilities stating that it is not a  matter concerning just an individual medical institution or person.
As per the release by West Bengal Doctors Forum, 42 leading hospitals including Narayana, AMRI, Medica, Fortis, R N Tagore, Belle Vue and Woodlands, participated in the OPD Shutdown.
As doctors, we sacrifice a lot for patients. We do not deserve threats, abuses and assault in return. The OPD shutdown call for Saturday has been taken after consulting doctors across hospitals and organisations to show solidarity with colleagues at CMRI and I will be playing my part," Medica cardiac surgeon Binayak Chanda told TOI.
Despite the shutdown, the doctors maintained that the emergency services and the treatment of all the patients who are already admitted in the hospital are being continued as the doctors are concerned about the patient's health.
 "As per the recent statement, "Doctors are worried about patient care and want to resume activities at the earliest and are monitoring the progress of the police probe on an hourly basis. All categories of CMRI staff have expressed their solidarity with the medical staff."
CEOs of all private hospitals in the city have been informed about this decision. I am sure, like me, a large number of doctors will respond to this call, AMRI Hospital, Salt Lake, oncologist Saradwat Mukherjee told TOI